by Making ELA Matter
5th – 9th Grade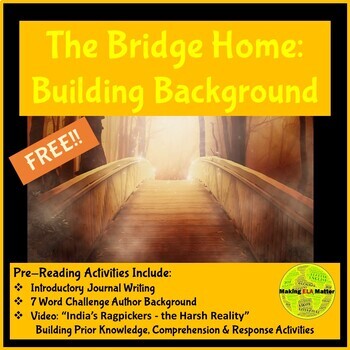 The Bridge Home by Padma Venkatraman is a moving account of four homeless children who struggle to survive together and grow to become a family.
This resource is designed to introduce students to the novel, the author and some background information on India's Ragpickers.
What's included:
A suggested lesson plan
A journal entry that asks students to study the cover and make predictions based on some leading questions. It also includes a direct link to the book trailer.
A 7 Word Challenge puzzle on the author, Padma Venkatraman. The puzzle requires students to complete a bit of research using on-line sources (the links are provided). This activity requires students to read carefully to decipher clues and come up with a word that fits the description based on the letter tiles provided.
An active listening worksheet that students complete after watching "India's Ragpickers – the Harsh Reality." The worksheet also includes opportunities for student response to certain aspects of the video.
Answer keys for all resources
I will be uploading resources that accompany the read-aloud weekly. Follow my store to receive updates when these new resources are uploaded.
Thank you for visiting my store!

https://www.teacherspayteachers.com/Product/The-Bridge-Home-Pre-Reading-Activities-4882853
Join The Best of Teacher Entrepreneurs Marketing Cooperative at
https://thebestofteacherentrepreneursmarketingcooperative.net/the-best-of-teacher-entrepreneurs-marketing-cooperative-one-year-membership/
and get THOUSANDS OF PAGE VIEWS for your TpT products!

Go to http://www.pinterest.com/TheBestofTPT/ for even more free products!