by English Oh My
7th – 12th Grade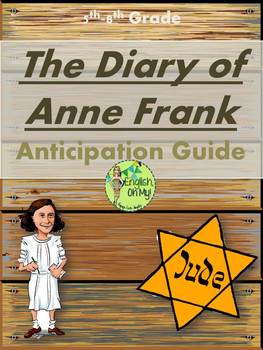 *Successful pre-reading activity to introduce The Diary of Anne Frank.
*8 statements that will develop group or classroom discussion. Students can share their opinions about different situations.
☆☆
⭐⭐Grab these ABSOLUTELY FREE PRODUCTS RIGHT HERE: ⭐⭐
****Please RATE and/or FOLLOW me after downloading my free product*** Thank you so much for your support!
Terms of Use:
Purchasing my teaching resources allows you to:
⭐ make copies for your own classes only.
⭐ place this file on your own password-protected class page or server (Blackboard, Google Drive, etc)
⭐ AS LONG AS no other teacher has access to that class webpage. This resource is for you, the purchaser, alone.
By purchasing my teaching resource, you ARE NOT ALLOWED TO:
⭐ make copies for other teachers or their classes.
⭐ distribute this digital resource to other teachers.
⭐ post this resource on any webpage or server that is available for public view, for other teachers.
Failure to comply with these terms of use is a copyright infringement and a violation of the Digital Millennium Copyright Act (DMCA). Clipart and elements found in this PDF are copyrighted and cannot be extracted and used outside this file without permission or license.
That's right! Leave feedback on this product, and you will receive credits for your next purchase. I would greatly appreciate it if you contact me first if you have an issue with the product before leaving feedback. I will be more than happy to accommodate you! Just e-mail me at englishohmy@gmail.com.
FOLLOW ME!
https://www.teacherspayteachers.com/Product/The-Diary-of-Anne-Frank-Anticipation-Guide-Pre-Reading-Activity-1420132
Join The Best of Teacher Entrepreneurs Marketing Cooperative at
https://thebestofteacherentrepreneursmarketingcooperative.net/the-best-of-teacher-entrepreneurs-marketing-cooperative-one-year-membership/
and get THOUSANDS OF PAGE VIEWS for your TpT products!

Go to http://www.pinterest.com/TheBestofTPT/ for even more free products!