by SK Designs
2nd – 6th Grade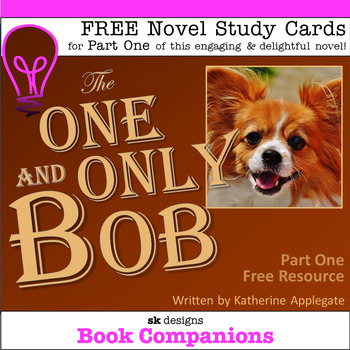 This product includes 16 comprehension, literary instruction, reflection, critical thinking, discussion, and composition prompts on cards for studying the novel The One and Only Bob, written by Katherine Applegate. This book is a delightful fictional story that is enjoyable and engaging. This novel opens the door to many important discussion opportunities for students within the classroom and beyond.
Book Themes: Adventure; Animals Stories; Friendship; Siblings; Compassion; Forgiveness; Animal Advocacy
This book is an especially useful vehicle for addressing a wide range of TEKS and Common Core standards and the questions provided allow differentiation and adaptation of how the book is used to address these standards in discussion, presentation, and composition.
This resource is great for classroom discussion, literature circles, book clubs, novel study activities, task cards, book challenges, reflection journals, and/or student writing prompts.
The questions are in order and cover Part One of the novel.
The questions in this resource are purposefully designed for discussion and reflection. The questions prompt students to think critically about the story, share observations, express their understanding, and make connections and applications while exploring literary elements.
This resource is appropriate for use by:

Students
Classroom teachers
Reading teachers and reading specialists
Language therapists
Librarians
Parents
Tutors
Counselors
Individuals who work with students to encourage a love for reading!
Be sure to download the complete novel study for full novel resources. It is available below:
The One and Only Bob 152 Novel Study Cards
Also, take advantage of the free resource Great Ideas for using SK Designs Novel Study Cards in the Classroom – a collection of 20 great ideas to use with all SK Designs novel studies. Find it here:
Great Ideas for using SK Designs Novel Study Question Cards in the Classroom

SK Designs has a full line of book resources for favorite student reads. Check out our store at the link below for the complete listing of titles.
Thank you for downloading this product and leaving your feedback!
Be inspired!
SK Designs
__________________________________________________________________
*************************************************************************************************************
If you are interested in more SK Design's products, freebies, and updates, please feel free to follow us by clicking here and then clicking the green star next to our logo on our store page!
Be sure to leave comments and ratings on the products you purchase to earn valuable TpT rewards!
__________________________________________________________________
*************************************************************************************************************

https://www.teacherspayteachers.com/Product/The-One-and-Only-Bob-Part-One-Study-Cards-FREE-Resource-5846988
Join The Best of Teacher Entrepreneurs Marketing Cooperative at
https://thebestofteacherentrepreneursmarketingcooperative.net/the-best-of-teacher-entrepreneurs-marketing-cooperative-one-year-membership/
and get THOUSANDS OF PAGE VIEWS for your TpT products!

Victoria Leon's TpT Store
Go to http://www.pinterest.com/TheBestofTPT/ for even more free products!