by I Want to be a Super Teacher
3rd – 5th Grade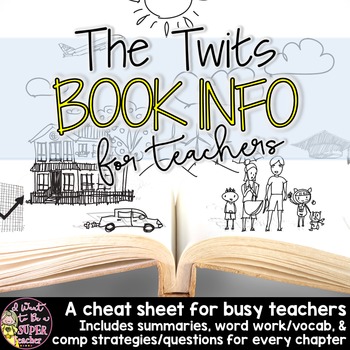 A reading teacher guide that includes summaries, word work/vocabulary, and comprehension strategies & questions for every chapter! Save tons of time and be 100% ready for those reading groups right now! The information in a Book Info Guide can help you organize and plan for whole class, guided reading, literature circle, or strategy group instruction.
This Book Info Guide is perfect for the busy guided reading/daily 5/literature circle/strategy group teacher. Spend your time on something fabulous (a pedicure? smoothie? moment of meditation?) rather than worrying about toting around that ever present bag-o-books. Use this product to get ahead of the game in your reading group planning!
This Book Info Sheet includes:
*Short summaries for every chapter
*Word work and/or vocabulary words for every chapter
*Possible comprehension strategies and/or questions for every chapter
All in a compact, easy to reference, format that you can print, fold and keep in your guided reading binder, bag, or book.
Once you're familiar with the organization of a Book Info Sheet, you can even have advanced readers create their own Book Info Sheets as they prepare to lead the discussions with literature circles. Then you can use them (don't forget to make copies!) in years to come for your own purposes. Hooray!
I hope you find this useful!
Katie 🙂
iwanttobeasuperteacher.com
*****************************************
How to get TPT credit to use on future purchases:
Please go to your "My Purchases" page (you may need to login). Beside each purchase you'll see a blinking "Provide Feedback" option. Simply click it and you will be taken to a page where you can give a quick rating and leave a short comment for the product. I love reading your comments and value your feedback greatly as it helps me determine which products are most valuable for your classroom so I can create more for you!
*****************************************
Be the first to know about my new discounts, freebies and product launches:
Look for the star near the top of any page within my store and click it to become a follower. You will then receive customized email updates when I upload new products to my store. I typically give a 20% discount on all new products for the first 48 hours, so please follow and get in on the discounted fun! Nothing's better than saving some moolah!
*****************************************

https://www.teacherspayteachers.com/Product/The-Twits-Book-Guide-Freebie-SummariesVocab-Strategies-for-Every-Chapter-169799
Join The Best of Teacher Entrepreneurs Marketing Cooperative at
https://thebestofteacherentrepreneursmarketingcooperative.net/the-best-of-teacher-entrepreneurs-marketing-cooperative-one-year-membership/
and get THOUSANDS OF PAGE VIEWS for your TpT products!

Victoria Leon's TpT Store
Go to http://www.pinterest.com/TheBestofTPT/ for even more free products!