by Growing Smart Readers
Kindergarten – 3rd Grade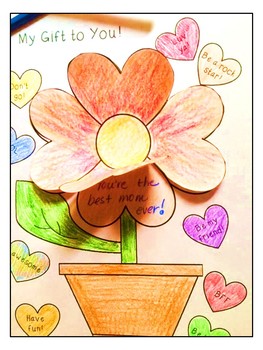 Free Valentine Fun–Three ready to print activities!
Use the template for the craftivity, but there's opportunity for students to personalize this and add uniqueness to it.
Students love reading conversation candy hearts. They enjoy writing their own messages, too! This set calls for a little conversation fun.
Good Skill Practice for:
1. Reading
2. Following written directions using the flower glyph
3. Vocabulary usage with words: center, right, left, top, bottom
4. Fine motor skills, such as cutting and pasting, writing
5. Spelling long vowel silent e words, and ee, ea words for students who are at this level. (3rd activity has to do with writing words from the word "Valentine".)
Here are the 3 main activities in this freebie:
1. Flower Glyph Pages: follow directions, color, and show data
2. Make a flower craft (patterns included)
3. Spell words using the letters in the word "VALENTINE".
It's also easy fun for fast finishers, homework and independent workers, and if you need something for the substitute teacher.
If you have a question, please to the Ask a Question tab (right here on my store page) before leaving feedback.
Thanks for stopping by!
Karen


https://www.teacherspayteachers.com/Product/Valentine-Flower-Glyph-and-Craft-1006695
Join The Best of Teacher Entrepreneurs Marketing Cooperative at
http://www.thebestofteacherentrepreneursmarketingcooperative.com/2014/01/the-best-of-teacher-entrepreneurs.html
and get THOUSANDS OF PAGE VIEWS for your TpT products!

Victoria Leon's TpT Store
Go to http://www.pinterest.com/TheBestofTPT/ for even more free products!