by Growing Smart Readers
Kindergarten – 3rd Grade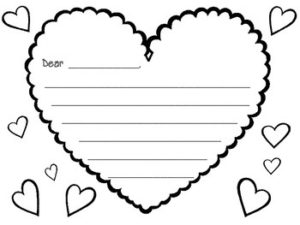 Have students write a thank you for being a friend, or a letter to tell someone why they are special. Writing a Valentine letter is a great alternative to a store-bought card.
Make it ANY day letter writing, Not just Valentine's Day!
These brief letter template letters are versatile and applicable for ANY day to write and send.
They are not necessarily Valentine specific! But the bows and hearts do make it a Valentine-theme.
There are just a few lines for the body, but that's so the kids just get the gist of the parts of a letter.
* 1 page for "parts of a friendly letter"
* 3 letter writing frames (with sentence stems)
* 6 stationery pages (no words) with lines for the 5 parts of a letter.
* Some have colored graphics, some are black and white.
Great for struggling writers who WANT to write, but have difficulty getting started.
Include in your writing center–Or teach the parts of a friendly letter, and hand this out for homework.
Younger children may even want to write a letter to a favorite stuffed toy! 🙂 Great practice even if they do not send their letters!
Thanks for stopping by! Please let me know if this was just what you were looking for!
Also, if you like this, you may want to check out these:
Valentine Heart Friends
http://www.teacherspayteachers.com/Product/Valentine-Heart-Friends-Compare-Contrast-Writing-Activities-With-Bookmarks-1052836
Friendly Letter Writing
http://www.teacherspayteachers.com/Product/Friendly-Letter-Writing-1295411
Thank you for your interest!
Karen
https://www.teacherspayteachers.com/Product/Valentine-Writing-FREE-1092698