by Laura Martin
Kindergarten – 2nd Grade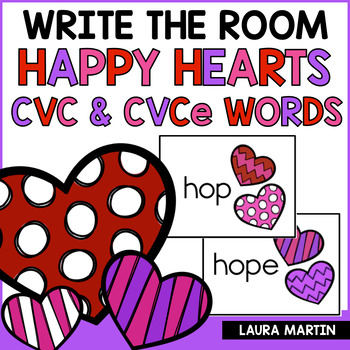 In this engaging Write the Room activity, students search the classroom for word cards containing short and Long vowel words (CVC and CVCe). Once located, the cards are sorted, and the words are written on the recording sheet. A great way to assess individual mastery of Phonics skills. Perfect for Valentine's Day reading centers!
WHAT'S INCLUDED:
Heart-themed word cards
Recording Sheet
Directions for Use
Common Core Standards
WHAT TEACHERS ARE SAYING!
"Great way to sort cvc and cvce words…we can use it as a teaching set of cards. e.g. read the cvc version…now add an e – what is this word? Love it!! Great recording sheet too. Love that the words are easy to see and not blocked by the hearts."
"I love this activity. It's not just read and write the room, it's practicing so much more! And it's ooooooh so cute! Thank you!"
"You have absolutely the best Read & Write the room activities. I'm making it my goal to buy all of yours! The kids love them."
Looking for more Valentine's Day activities?
Don't forget to leave feedback and earn credits toward FREE TPT purchases.
I appreciate your feedback so much and read every single one!
Want to be notified when new products are posted? Hit the FOLLOW Button above!
New products are 50% off the first 24 hours they are posted.
Please let me know if you have any questions about my products!
I hope you and your kiddos love this pack!!
Thanks so much!
Laura

https://www.teacherspayteachers.com/Product/Valentines-Day-Write-the-Room-FREEBIE-CVC-CVCe-Words-199416
Join The Best of Teacher Entrepreneurs Marketing Cooperative at
https://thebestofteacherentrepreneursmarketingcooperative.net/the-best-of-teacher-entrepreneurs-marketing-cooperative-one-year-membership/
and get THOUSANDS OF PAGE VIEWS for your TpT products!

Victoria Leon's TpT Store
Go to http://www.pinterest.com/TheBestofTPT/ for even more free products!