by Maggie's Files
6th – 12th Grade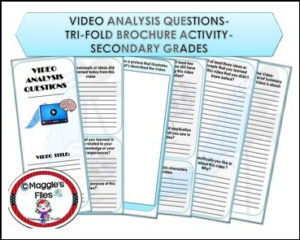 The video analysis questions is a tri-fold brochure template that contains ten common core questions design to help your secondary students generate and focus their thoughts when watching movies or videos clips. This reusable template contains ten higher thinking level questions that going to keep your students actively engage and working independently of the content of the video . Useful for ALL content areas. Common Core standards. W.2.8, W.3.8, W.4.8, W.5.8
By Maggie's Files!
What to do
Make two sided multiple copies for your students
Read the questions together before the video
Have the students fold the paper and make the tri-fold brochure
Have the students think and answer the questions during the video
Provide few minutes after the video to complete activities.
FOR MORE AMAZING PRODUCTS AND POWER POINT PRESENTATIONS GO TO: http://www.teacherspayteachers.com/Store/Maggies-Files
https://www.teacherspayteachers.com/Product/VIDEO-ANALYSIS-QUESTIONS-TRI-FOLD-BROCHURE-TEMPLATE-ALL-SUBJECTS-CCSS-1093634
Go to http://www.pinterest.com/TheBestofTPT/ for even more free products!