by Stress-Free Teaching
Kindergarten – 5th Grade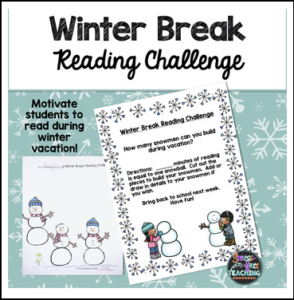 Motivating students to read during vacation can sometimes be a challenge. Why not challenge students to see how many snowmen they can build over vacation while reading?
Here's how it works:
X minutes of reading = one part of a snowman.
Students cut out and glue the snowball body parts onto the page.
Optional details can be added to completed snowmen.
Included in this resource:
Student directions
February break challenge sheet (where the snowmen will go)
Winter break challenge sheet (in case your vacation isn't in Feb.)
Snowman body parts
Hats, scarves, carrots, and arms that can be used to decorate each snowman.
Black and white or color images – Print only the pages you want.
***************************************************************************
If you like this project you may also like:
Reader's Notebook Assignments Year Long Bundle
Book Review Project
***************************************************************************
*********************************************************************
I would love to connect with you. Click on the green star by my store name to become a follower. You can find me:
********************************************************************
https://www.teacherspayteachers.com/Product/Winter-Break-Reading-Challenge-2387031