by MrM'sInstaStuff
1st – 3rd Grade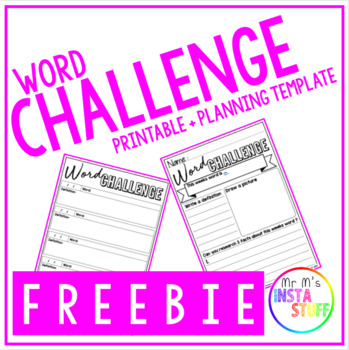 ✏️ KEYWORDS: Word Challenge, Vocabulary, Printable, Literacy, Reading, Writing
✏️ DESCRIPTION – Looking for a fun way to engage learners in finding new and exciting vocabulary ? Finding it hard to find a fun homework activity ? LOOK NO FURTHER !!!!!
I have personally used this resource for over 3 years and it honestly works wonders ! Used as either a Literature station or a homework activity , this resource is a a perfect way of learning new vocabulary .
DOWNLOAD the above preview to see this fantastic resource . Remember to TAG @MrMsInstaStuff on Instagram or Facebook if you use this in your classroom .
❗️MAKE SURE TO DOWNLOAD THE PREVIEW FILE IN EACH RESOURCE FOR A CLOSER LOOK AT WHAT IS INCLUDED!
___________________________________________________________________
WHAT IS INCLUDED:
✅ WORD CHALLENGE // PRINTABLE AND PLANNER // LITERACY RESEARCH- This product includes an 8 page PDF
Word Challenge (PRINTABLE)
Word Challenge Planning Printable
Wednesday Word Challenge (PRINTABLE)
Wednesday Word Challenge Planning Printable
PLEASE NOTE | All forms are UK A4 size ( landscape ).
These are all designed to be easily accomplished by students at school. You will not need many resources or additional materials. You can decide whether students will complete each task independently or whether you will work together as a class community to complete each act.
___________________________________________________________________
❤️ PRODUCTS YOU MIGHT ALSO BE INTERESTED IN:
⭐️ ALPHABET ACTIVITY BOOK BUNDLE – 24 BOOKLETS INCLUDED
⭐️ PHONOLOGICAL AWARENESS // STAGES 1 – 3 BUNDLE // PHONICS AND COMMOM WORDS
⭐️ Phonic Builder – Initial Sounds – Literacy Games
___________________________________________________________________
✉️ FIND ME ON : INSTAGRAM // TWITTER // BLOG // TPT
CLICK HERE to keep up to date with all of my latest releases . ALL of my new products are released with 50% off for the first 24 hours so its always good to pick up a bargain .
⌨️ WE LOVE FEEDBACK – Did you know that you can earn credits for leaving feedback ? For every $1 you spend on TPT you will receive 1 credit . Once you have gained 20 credits you will have $1 available to spend on the TPT store . Pretty much its FREE money for leaving feedback !!! WIN WIN WIN !!!
I hope you enjoy 🙂

https://www.teacherspayteachers.com/Product/WORD-CHALLENGE-PRINTABLE-AND-PLANNER-LITERACY-RESEARCH-4582402
Join The Best of Teacher Entrepreneurs Marketing Cooperative at
https://thebestofteacherentrepreneursmarketingcooperative.net/the-best-of-teacher-entrepreneurs-marketing-cooperative-one-year-membership/
and get THOUSANDS OF PAGE VIEWS for your TpT products!

Go to http://www.pinterest.com/TheBestofTPT/ for even more free products!