by The Teacher down the Hall
3rd – 6th Grade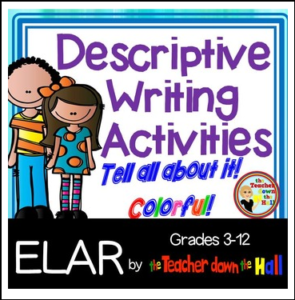 Young writers can often narrate a story through a sequence of events or persuade their reader with reasons, but most of their writing lacks the descriptions that make their written words come to life in a reader's mind. This product includes two 30-40 minute activities that will help your students practice bringing their characters or settings to life! Enjoy!
** You may also like:
Good, Better, and the Best Introductions!
Narrative Writing 3 Week Unit
Incomplete Idioms
Classificatory Writing 3 Week Unit
Grammar Skills – 4 Editing Games for Whole Group Review
Synonym Antonym Bingo
Synonym / Antonym Football
Irregular Verbs Football
Customer Tips:
How to find out when I've added a new product (free or paid) to my store:
• Look for the green star at the top and to the right on this page and click it to become a follower. The star is next to my store name: Joyful Projections. When I add a new product, you will receive an e-mail with a link to its description. If you choose not to receive e-mails, simply go to My TpT and click on My Favorite Sellers. This is a list of the sellers you are following. You can turn off notification (from green to red).
How to earn TPT credit toward future purchases:
• Please go to My TpT and click on My Purchases (you may need to login). Beside each purchase you'll see a Provide Feedback button. Simply click it and you will be taken to a page where you can rate and comment on the product.
How to make sure more teachers know about this great resource:
• Pin it! Start a board on Pinterest and pin this product by clicking the Pin It button on the top left of your screen.