By:  The Owl Teacher
Grades 2- 5
Common Core is now focusing on more than just simple reading skills and strategies!  It's also making sure that your students are able to communicate and listen well.  (Of course, my district was implementing something similar prior but it was not emphasized as much as now.)
I struggled in the beginning trying to figure out just how I was going to teach my third graders to listen.  Imagine – if there was ever a teacher that could actually 100% teach students to listen… he or she would be sensation!  A millionaire…
Ah, but I'm not here to dream or to convince you that I have the fool proof secret.  But I am here to give you a FREE tool that I use in the classroom to help my students work on this important life skill!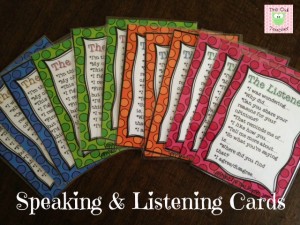 First head over to my blog by clicking here and download these really neat task cards!  Then print them in the colors you desire, cut them out, and laminate them back to back.  Cut a small slit along the bottom of the laminated card to insert a craft stick with a dab of hot glue.  Viola!  You have handy task cards!  (Of course, you can eliminate the stick!)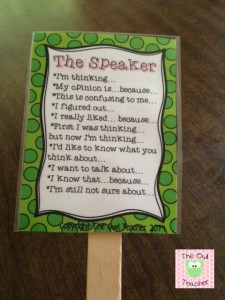 Here is a picture of both sides so you can see the thinking stems for both the speaker and the listener: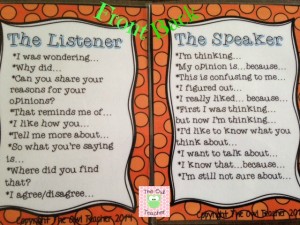 I hope these cards are useful for implementing those common core standards of speaking and listening… and hey, if you do manage to figure out the mysterious way to get *any* kid to truly 100% listen, be sure to let me know!  🙂
Happy Teaching,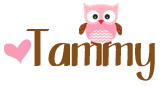 Be sure to follow me so you are up-to-date on all my products, freebies, tips, and much more!
Copyright of The Owl Teacher.  All rights reserved by author. This product is to be used by the original downloader only. Copying for more than one teacher, classroom, department, school, or school system is prohibited. This product may not be distributed or displayed digitally for public view. Failure to comply is a copyright infringement and a violation of the Digital Millennium Copyright Act (DMCA). Intended for classroom and personal use ONLY.  I love it when you share my products with your colleagues but please do so legally!  Thank you!