by Life Beyond the Gradebook
5th Grade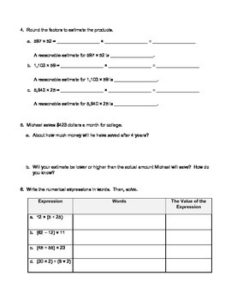 This review packet covers all topics taught in lessons 1-15 on EngageNY's 5th Grade math curriculum.
The packet has standard computation questions as well as word problems and will prepare students for their mid-module assessment. It's important to provide students with targeted practice before their test to help alleviate any anxiety and support them in feeling confident on the day of their real assessment.
This will also help identify any areas of misconception to provide structured reteaching before the mid-module assessment.
Check out my other products for EngageNY 5th Grade Math – Module 2
Assessment Practice:
Mid-Module 2 Take-Home Review
End of Module 2 Review
End of Module 2 Take-Home Review
Parent Informational Letters:
Lessons 16-18 Informational Letter for Parents
Lessons 19-23 Informational Letter for Parents
Lessons 24-27 Informational Letter for Parents
Module Posters:
Module 2 Learning Goals
Module 2 Key Vocabulary
Workbooks
Application Problem Workbook
***********************************************************************
Be the first to know about my new discounts, freebies and product launches:
Visit My Blog
Find me on Facebook
Twitter
Instagram
***********************************************************************
Leave Feedback for Credits:
Go to your My Purchases page (you may need to login). Beside each purchase you'll see a "Provide Feedback" button. When you click it, you will be taken to a page where you can give a quick rating and leave a short comment for the product. Each time you give feedback, TPT gives you feedback credits that you use toward future purchases.
***********************************************************************
Copyright © 2015 Keep Calm and Teach 5th Grade
All rights reserved by the author. This product is to be used by the purchaser only. Copying for more than one teacher, classroom, or department is prohibited. This product may not be distributed or displayed digitally for public view. The graphics used in this item(s) are copyrighted and may not be used for your own commercial projects or given away to anyone else. By purchasing this file(s), you agree to the Terms of Use. Failure to comply is a copyright infringement and a violation of the Digital Millennium Copyright Act (DMCA).
https://www.teacherspayteachers.com/Product/5th-Grade-EngageNYEureka-Math-Mid-Module-2-Review-1579484