by Jennifer Drake
Pre-Kindergarten – Kindergarten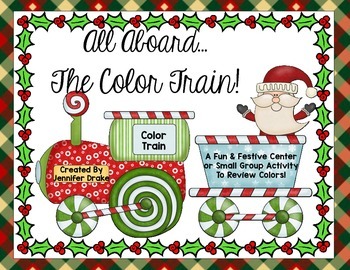 CHOO CHOO! Time to board the color train!
**This freebie coordinates with my bundle that also includes the add-on pack to go with this freebie! Save over $3 with this bundle:All Aboard Bundle***
Are you looking for a fun center this holiday to review colors and sorting?
Have a 'Polar Express' unit planned and would like a center that coordinates with it?
Love getting something GREAT for free???
Here it is!
This is my best FREEBIE yet!
My son is a train fanatic and saw my other 'All Aboard' packs lying around…before they got trashed, I created one for him- colors- and figured I would share! Feel free to use in your classroom, or at home with your own little ones!
This Pack Includes:
*Directions/Suggestions For Use
*Engine and 5 color programmed cars
*15 picture cards (3 for each color)
*1 Santa card (he can be put as driving the engine or used for 'red')
*1 B&W Printable
*Great center, small group activity, learning game activity for a holiday party, festive assessment tool for knowledge of colors- for both mainstream & RTI students, and more!
*Virtually no prep required and tons of fun for your students!
Want more colors to sort? Again, inspired by my son who was wondering where the others color were, I created an add-on pack that has 6 more colors and 18 more picture cards to sort! You can find it in my TpT store- 'All Aboard the Color Train- Add-On Pack" or click on the direct link:
All Aboard The Color Train Add On Pack
Looking for more Holiday Fun? Click here:
Christmas Products In My TpT Store
There are Shared Reading packs, games, centers, super packs, freebies, etc!
New products and freebies are added all the time, so be sure to click 'follow me' so you receive notification when new items are posted!
THANK YOU for visiting- please 'pay it forward' and provide feedback on this FREEBIE!
Happy Holidays!
Happy Color Train FREEBIE fun!

https://www.teacherspayteachers.com/Product/Christmas-Center-All-Aboard-the-Color-Train-FREEBIE-404482
Join The Best of Teacher Entrepreneurs Marketing Cooperative at
http://www.thebestofteacherentrepreneursmarketingcooperative.com/2014/01/the-best-of-teacher-entrepreneurs.html
and get THOUSANDS OF PAGE VIEWS for your TpT products!

Victoria Leon's TpT Store
Go to http://www.pinterest.com/TheBestofTPT/ for even more free products!