by RoShamBo Homeschooling
Pre-Kindergarten – 1st Grade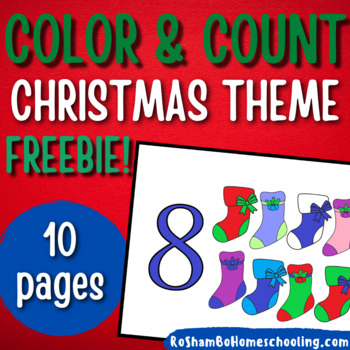 This FREE printable includes 10 coloring sheets that will help get your kiddo in the Christmas spirit!
One thing I know my son can never get enough of is new coloring sheets.
And Christmas coloring sheets that help with practicing counting, number recognition, and one-to-one correspondence? 'Tis the season!
These Christmas-themed coloring pages cover numbers 1-10. They're great for kids who are just learning numbers and for kids who already know their numbers but still need practice with counting bigger numbers. Plus, coloring regularly is one of the best ways kiddos can keep building the fine motor strength in their hands that will prepare them for learning handwriting later on.
After my son completes a series of educational coloring sheets like this that all fit into a theme, I like to laminate them, hole punch them, and put them into a binder so that he can continue looking at them and learning. He's always so much more interested in "studying" a booklet I've made him when he helped color it!
Please let me know if you have any questions prior to purchasing.
© RoShamBo Homeschooling 2020
Earn points toward by leaving feedback on my products.
__________________________________________________________________
Let's connect!
Don't forget to FOLLOW ME on TPT to be the first to know about discounts, freebies, and product launches!

https://www.teacherspayteachers.com/Product/Color-Count-Christmas-Theme-Counting-Coloring-Sheets-for-Pre-K-6171248
Join The Best of Teacher Entrepreneurs Marketing Cooperative at
https://thebestofteacherentrepreneursmarketingcooperative.net/the-best-of-teacher-entrepreneurs-marketing-cooperative-one-year-membership/
and get THOUSANDS OF PAGE VIEWS for your TpT products!

Victoria Leon's TpT Store
Go to http://www.pinterest.com/TheBestofTPT/ for even more free products!