by Teacher Tam
1st – 2nd Grade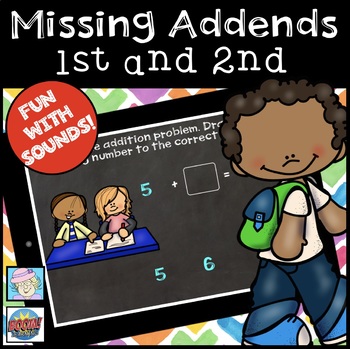 Your students will love practicing addition facts with this fun, back to school FREEBIE! It even includes surprise sounds! This deck of 40 addition cards asks students to find the missing addend for each problem. It covers sums of 20 or less. Two types of cards are included: drag and drop and click on the answer. Students can also click on the sound icon to hear the directions.
*****Just download the PDF and click on the link found on page 4 to grab your FREEBIE!*****
This deck addresses the following CCSS for first and second grade math: 1.OA.C.5, 1.OA.C.6, 1.OA.D.8, and 2.OA.B.2.
*****READ MORE ABOUT BOOM CARDS™: Boom Cards™ are self-grading, DIGITAL resources. They live in the cloud. They can't be printed. They play on most modern browsers, Android, iPads, iPhones, and Kindle Fires. You open a Boom Learning℠ account to play them (to protect the children). Create Fast Play pins to assign your Boom Cards™ to students.
Boom Learning℠ also has premium accounts. Premium accounts offer advanced assignment tools, individual and whole class performance tracking, and more. If you are a new Boom Learning customer, when you redeem your Boom Cards™ purchase you get 90-day free trial of a premium account. When your trial ends, you can renew or move to a free account. You may upgrade, downgrade or cancel at any time. Free accounts use purchased Boom Cards with Fast Play pins.
***Did you know??? You can use Boom Cards™ in Google Classroom™! Just CLICK HERE to find out how!
Related Products
★ Addition & Subtraction Worksheets | Math Worksheets 1st Grade and BOOM CARDS
★ Addition & Subtraction Worksheets Spring | 1st Grade Math BOOM CARDS MATH
★ BOOM CARDS ADDING | Math Games Kindergarten 1st Grade
★ BOOM CARDS ELA MATH BUNDLE Kindergarten 1st Winter
★ Back to School Math Journal Prompts 1st Grade & BOOM CARDS
★ Reading Comprehension Passages and Questions BUNDLE with BOOM CARDS ELA
Boom Learning℠ and Boom Cards™ are the trademarks of Boom Learning Inc. Used with permission.

https://www.teacherspayteachers.com/Product/Digital-Math-Activities-1st-Grade-2nd-Grade-BOOM-CARDS-3910958
Join The Best of Teacher Entrepreneurs Marketing Cooperative at
https://thebestofteacherentrepreneursmarketingcooperative.net/the-best-of-teacher-entrepreneurs-marketing-cooperative-one-year-membership/
and get THOUSANDS OF PAGE VIEWS for your TpT products!

Go to http://www.pinterest.com/TheBestofTPT/ for even more free products!