by Primary Planet by Hilary Gard
1st – 2nd Grade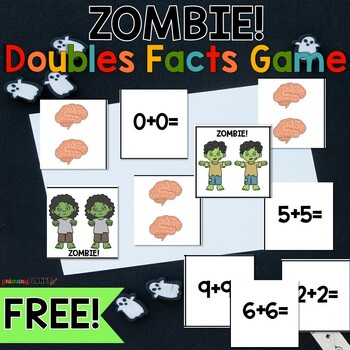 Help your students become fluent at doubles addition math facts with this super fun, hands-on Zombie Addition Game! This doubles addition facts game also includes a worksheet to practice the addition double facts for fluency!
Your students will love playing Zombie! It is a "Bang" type game, where students choose a card and answer the problem. If they get it correct, they keep the card. If they answer the addition fact incorrectly, they put their card back. If they draw a ZOMBIE! card, they put ALL of their cards back. Whoever has the most cards at the end WINS! This addition facts game can be played with 2 or more players! Perfect for small group math activities and math centers!
Check out the previews to see more!
Here's what you get in the Zombie Addition Game:
✔️Teacher directions
✔️Student directions
✔️Doubles Addition Math Fact Cards
✔️Brains (for the backs of ALL the cards)
✔️1 page of Zombie Cards!
✔️Doubles Addition Math Facts Worksheet
My students LOVE this game and played it YEAR ROUND! I laminated the cards after printing to make them more durable as my students asked to play this game all the time! Even during inside recess! WIN-WIN!
Love this game and want to play some more:
⭐️Zombie: Addition Game – Math Game – Addition Facts Fluency
I positively adore feedback! Don't forget that leaving feedback earns you points toward FREE TPT purchases.
Do you want to save 50% on all of my new products? Follow me to be notified of new products! They are 50% off for the first 24 hours (or longer if I forget to change them) after they are posted! You don't want to miss out on that!
~Happy Teaching!
Hilary

https://www.teacherspayteachers.com/Product/Doubles-Addition-Facts-Fluency-Game-Math-Game-FREE-Zombie-898698
Join The Best of Teacher Entrepreneurs Marketing Cooperative at
https://thebestofteacherentrepreneursmarketingcooperative.net/the-best-of-teacher-entrepreneurs-marketing-cooperative-one-year-membership/
and get THOUSANDS OF PAGE VIEWS for your TpT products!

Go to http://www.pinterest.com/TheBestofTPT/ for even more free products!