by Josie's Place
Pre-Kindergarten – 2nd Grade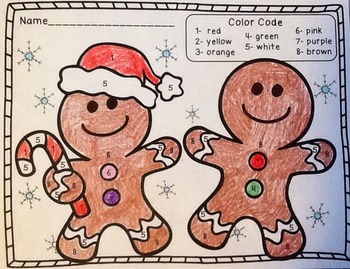 Enjoy this FREE color by number and number recognition sheet. Stop by to visit the full product, Polar Express.
IT INCLUDES EVERYTHING YOU NEED TO CELEBRATE POLAR EXPRESS DAY AND MUCH MORE!
Polar Express is one of my favorite units and I hope you love it as much as I do!
Your Polar Express Unit will be complete with everything you need to celebrate Polar Express Day with themed holiday reading, writing, math activities and centers (for winter) for the days and weeks that follow!
Please enjoy a Elf and Gingerbread Color by Number FREEBIE
Included :
1 Polar Express Day Invitation from the teacher
1 Letter from me explaining how I celebrate the day.
2Polar Express Admit One Tickets- 2 different backgrounds to choose from.
1 Polar Express Reminder letter – to send out the day before.
1 Letter from Santa- to go with bells to be handed out (if you choose)
1 PJ reproducible
2 Parent Letters for Polar Express Snack- 1 to solicit volunteers and 1 to send home requesting snack items
1Conductor hat for Teacher and 2 for students (color and b/w)
Snowman Soup Poem- If you'd like to send home an end of unit treat. Poem explains items that go in a bag attached to poem.
READING ACTIVITIES:
Polar Express Booklet- 16 pages to practice sight words and reading fluency.
WRITING ACTIVITIES:
1 Best Gift Ever Writing Printable
1 Favorite Cookie Response Sheet
1 Favorite Part of Polar Express Day Response Sheet
2 new Label It! Activities from my best seller
4 pages (2 choices) of Writing Paper –with and without picture boxes.You can have children write a letter to Santa
1Venn Diagram- to compare book and movie
SKILLS
1 Syllable Sort Worksheet- Sort pictures by 1, 2, and 3 syllables
1 Picture Sequence Activity- Put the story in order using pictures.
1 Sequence Events in Story Worksheet- Printables with spots to write or draw pictures for the beginning middle and end.
1 Character, Setting Events Worksheet-printable with spots to write or draw pictures to show the characters, setting and events.
MATH
2 Number Recognition Train Worksheets – Cut and glue numbers in order from 1-10 and 11-20.
4 Cut and paste complete the pattern
3 One to one correspondence sheets
3 Count by 10's, and 2's worksheets
MATH CENTERS
Greater Than/ Less Than – Math greater than and less than sorting center with center sign.4 Posters to illustrate greater than, less than and equal to. One is illustrated for holiday time.
3 Greater Than/ Less Than/Equal to Printables differentiated for all levels of learners.
Addition and Subtraction Center- Children can choose from 16 Subtraction and Addition Task Cards using either a colored or black and white reproducible Work Mat, and "marshmallow" manipulatives to solve word problems. There are 16 task cards in all (8 addition and 8 subtraction) with sums up to 20. There are also 8 blank cards (4 addition & 4 subtraction) for you to use to fill in the blank number to create your own. You can use these in a center or on an individual basis.
Colored Number Mats with numbers 1-20 for children to work on one to one correspondence and number recognition. You would also use the marshmallow manipulatives here as well.
Counting Center- 4 different tasks/choices to order number cards. Center Sign Included.
Pattern Center- task cards include create a pattern for: AB, ABC, ABB, AABB, AAB, and ABCC. Center Sign Included.
Art-
2 color by number sheets
1 color word recognition sheet
This is in 2 files due to format of the pages. There are 115 pages in all. This includes about 10 helpful explanation pages to keep the file organized for you. Answer keys for a few items
Here are just a few of the common core standards that are met through this packet.
CCSS.ELA-Literacy.RF.K.2
Demonstrate understanding of spoken words, syllables, and sounds (phonemes).
CCSS.ELA-Literacy.RF.K.4
Read emergent-reader texts with purpose and understanding.
CCSS.ELA-Literacy.RF.K.3.c
Read common high-frequency words by sight (e.g., the, of, to, you, she, my, is, are, do, does).
CCSS.ELA-Literacy.SL.K.4
Describe familiar people, places, things, and events and, with prompting and support, provide additional detail.
CCSS.ELA-Literacy.W.1.8
With guidance and support from adults, recall information from experiences or gather information from provided sources to answer a question.
CCSS.ELA-Literacy.RL.1.3
Describe characters, settings, and major events in a story, using key details.
CCSS.Math.Content.K.CC.B.4
Understand the relationship between numbers and quantities; connect counting to cardinality.
CCSS.Math.Content.K.CC.A.1
Count to 100 by ones and by tens.
CCSS.Math.Content.1.OA.C.5
Relate counting to addition and subtraction (e.g., by counting on 2 to add 2).
CCSS.Math.Content.1.OA.A.1
Use addition and subtraction within 20 to solve word problems involving situations of adding to, taking from, putting together, taking apart, and comparing, with unknowns in all positions, e.g., by using objects, drawings, and equations with a symbol for the unknown number to represent the problem.
CCSS.Math.Content.1.NBT.B.3
Compare two two-digit numbers based on meanings of the tens and ones digits, recording the results of comparisons with the symbols greater than, less than and equal to.
Please visit my other math products:
Organization of math manipulatives –all grades:
Math Labels For Your Manipulatives * Editable Option Included
Solving Word Problems Gr. 1-3
Addition/Subtraction Word Problems with Guided Practice, Keyword Sort and more! Fall and Winter Edition Gr. 1-3
Place Value, Greater/Less Than and more:
Buggy Math for printables and no prep dice games to learn place value, odd/even,greater than and less than and more! Gr. 1-3
Fractions :
The Doorbell Rang to practice fractions, equivalent sets and word problems. FREEBIE available! Gr. 1-3
Skip Counting:
Skip Counting Center K-1
Pattern Printables and Centers :
APPLES! Beginning /Ending Sounds and Pattern and Sorting Center and Printables K-1 FREEBIE available!
Cater-Patterns Center and Printables K-1
Pattern Printables and Snowman Pattern Center K-1 FREEBIE available!
Sorting:
Sorting Center with Bonus Task Cards. FREEBIE available! K-1
HOLIDAY MATH (these include a thematic approach but includes many math activities):
October:
Octoberfest for Kids! K-1 FREEBIE available!
December:
Polar Express– includes everything for Polar Express and activities (MANY math activities) for weeks! K-1 FREEBIE available!
You might be interested in taking a look at my entire EDITABLE Collection:
ULTIMATE EDITION EDITABLE Labels Bundle & Save!
EDITABLE Labels in Solid Colors- 30 colors to choose from!
Math Labels For Your Manipulatives * Editable Option Included
BACK TO SCHOOL EDITABLE Class Signs, Labels, Word Wall & Cards, Desk tag & More in Chevron
BACK TO SCHOOL EDITABLE Class Signs, Labels, Word Wall & Cards, Desk tag & More in Polka Dots
Create your own posters, signs, anchor charts and more! Editable
EDITABLE How Do I Get Home? Dismissal Tags, Charts and Notes EDITABLE Birthday Extravaganza

https://www.teacherspayteachers.com/Product/FREE-Gingerbread-Men-Color-by-Number-1492700
Join The Best of Teacher Entrepreneurs Marketing Cooperative at
http://www.thebestofteacherentrepreneursmarketingcooperative.com/2014/01/the-best-of-teacher-entrepreneurs.html
and get THOUSANDS OF PAGE VIEWS for your TpT products!

Victoria Leon's TpT Store
Go to http://www.pinterest.com/TheBestofTPT/ for even more free products!