by Ashleigh
3rd – 5th Grade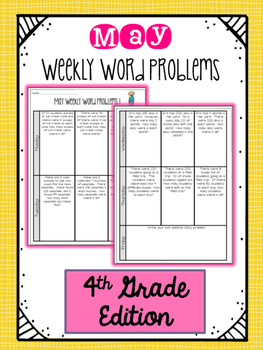 Weekly Word Problems are my absolute FAVORITE way to teach word problems! These word problems have become an essential component to my classroom instruction!
***************************************************************************
Weekly Word problems allow students to practice their word problem skills each day. The May version contains a mixture of addition, subtraction, multiplication, and division word problems, and all operations include larger numbers that require students to apply their computation skills. In this activity, students solve 3 word problems a day, and on Fridays they write their own word problem for a specific operation. There are 4 weeks worth of word problems in this product. All of the word problems have spring or summer related theme. An answer key is included.
***************************************************************************
What's Included
Since I want my students to be able to solve the word problems independently, the August word problems are primarily a review of third grade math. In September, students begin to add and subtract larger 4-digit numbers, while the multiplication and division problems are centered around basic math facts. I add larger multiplication problems in the October version, and by November students are multiplying 3-digit numbers by 1-digit numbers and 2-digit numbers by 2-digit numbers. I've also added 3-digit division problems, as well as a few multi-step word problems!
You can buy a bundle for the entire year here!


https://www.teacherspayteachers.com/Product/FREE-Weekly-Word-Problems-May-4th-Grade-Edition-2529276
Join The Best of Teacher Entrepreneurs Marketing Cooperative at
http://www.thebestofteacherentrepreneursmarketingcooperative.com/2014/01/the-best-of-teacher-entrepreneurs.html
and get THOUSANDS OF PAGE VIEWS for your TpT products!

Victoria Leon's TpT Store
Go to http://www.pinterest.com/TheBestofTPT/ for even more free products!