by Kristin Jason
3rd Grade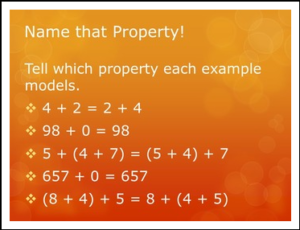 Free! It's time to learn the properties of addition with the Grade 3 EnVisions Math Lesson 2-1 Power Point Lesson ! The Power Point teaches Lesson 2-1 of Topic 2, which is the Properties of Addition. It includes:
* Warm-up problems
* Literature suggestions to integrate literacy/reading into math
* Think and Write to integrate writing and real-life math
* Explanations of each property with examples
* Practice problems which can be done on communicators/slates
* A poem to help students remember the Commutative Property (integration of math and literacy!)
Download for free today as a sample of what is in my Power Point presentations for the Grade 3 EnVisions curriculum.
If you like this product, consider buying the Topic 2 complete Power Point lesson series along with the whole Grade 3 EnVisions series in my Teachers Pay Teachers store.
Grade 3 Topic 2 EnVisions Power Point Lessons
*** This product is based on the 2012 Common Core EnVisions series***
https://www.teacherspayteachers.com/Product/Grade-3-EnVisions-Math-Lesson-2-1-Power-Point-Lesson-740216