by ChiliMath
7th – 10th Grade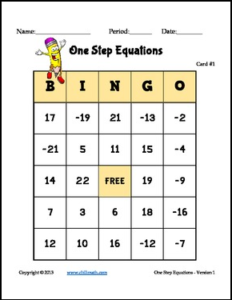 This fun activity will surely engage the whole class and is a great way to practice their skills in solving one step equations. Students will solve problems with varying levels of difficulty and find the answers on their Bingo card. Whoever covers five squares in a row horizontally, vertically, or diagonally first wins.
This set includes:
*Game Instructions
*40 pre-made Bingo cards
*32 Caller Cards with Answers
We really hope that you and your students enjoy this math resource! Our goal is to create quality math resources that will be helpful in your class instruction. If you have any questions about this product, please don't hesitate to contact us at chilimath@yahoo.com. Thank you!
Mike and Kathy
© ChiliMath 2015. This product is intended for single classroom use only. It may be printed or photocopied by the original purchaser but may not be sold, transmitted, or put on the internet/intranet without a written permission from the authors. If you would like to share this math resource with your colleagues, you may buy additional licenses at a discounted price.