by ZippadeeZazz
Pre-Kindergarten – 2nd Grade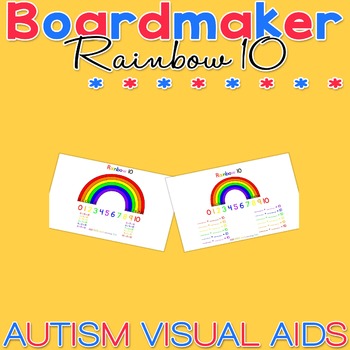 This pack includes:
* Rainbow 10 Poster to show all ten bonds.
* Rainbow 10 worksheet to practice ten bonds.
– PDF and ready to print
Follow our page on Facebook: www.facebook.com/asdpecs
Website: www.autimsymbols.co.uk
——————————————————————————————-
Boardmaker Picture Symbols provided by The Picture Communication Symbols © 1981–2010 by Mayer-Johnson LLC. All Rights Reserved Worldwide. Used with permission. Boardmaker™ is a trademark of Mayer-Johnson LLC
DynaVox Mayer-Johnson
2100 Wharton Street
Suite 400
Pittsburgh, PA 15203
Phone: 1 (800) 588-4548
Fax: 1 (866) 585-6260
Email: mayer-johnson.usa@mayer-johnson.com
Web site: www.mayer-johnson.com
This work is licensed under the Creative Commons Attribution-NonCommercial 3.0 Unported License. To view a copy of this license, visit http://creativecommons.org/licenses/by-nc/3.0/ or send a letter to Creative Commons, 444 Castro Street, Suite 900, Mountain View, California, 94041, USA.

https://www.teacherspayteachers.com/Product/Rainbow-10-learn-10-bonds-practice-addition-2844871
Join The Best of Teacher Entrepreneurs Marketing Cooperative at
http://www.thebestofteacherentrepreneursmarketingcooperative.com/2014/01/the-best-of-teacher-entrepreneurs.html
and get THOUSANDS OF PAGE VIEWS for your TpT products!

Victoria Leon's TpT Store
Go to http://www.pinterest.com/TheBestofTPT/ for even more free products!