by Beautiful Mathematics
7th – 9th Grade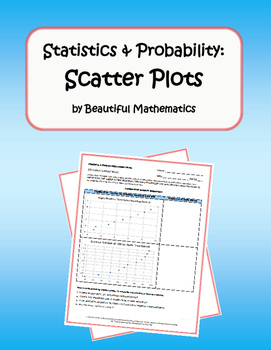 Students will learn that straight lines are widely used to model relationships between two quantitative variables. For scatter plots that suggest a linear association, informally fit a straight line, and informally assess the model fit by judging the closeness of the data points to the line.
Provide feedback and get TPT credit on future purchases:
***Go to your My Purchases page. Click on the Provide Feedback button beside each purchase. You will be taken to a page where you can give a quick rating and leave a short comment for the product. By giving feedback, you gain TPT feedback credits that lower the cost of future purchases. Thank you for your feedback!
Follow me to hear about new discounts, freebies and product launches:
***Click on the green star next to my store logo to become a follower. Thanks for following!
Licensed under Creative Commons Attribution-NonCommercial-NoDerivatives 4.0 International License.
https://www.teacherspayteachers.com/Product/Statistics-Probability-Scatter-Plots-2411108
Join The Best of Teacher Entrepreneurs Marketing Cooperative at
https://thebestofteacherentrepreneursmarketingcooperative.net/the-best-of-teacher-entrepreneurs-marketing-cooperative-one-year-membership/
and get THOUSANDS OF PAGE VIEWS for your TpT products!

Go to http://www.pinterest.com/TheBestofTPT/ for even more free products!