by Mister Mitchell's Education Resources
Kindergarten – 12th Grade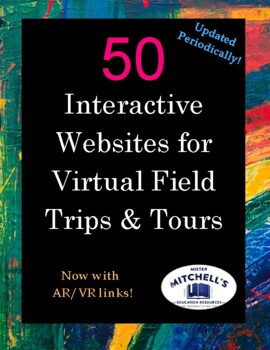 Virtual tours and field trips provide students with opportunities they may not get to experience otherwise.
Where else can you "take a trip" to see Sistine Chapel, the bottom of the Pacific Ocean, or the African grasslands — all in one day?
These tools may also challenge students to think critically about the places they visit. For example, a virtual trip to Pompeii requires students to consider the quality of life in an ancient city. A trip to Chichen Itza will allow them to appreciate and question the Mayas design decisions. Simply, virtual field trips can spark your students' interest and motivate their learning in a specific content area.
The following websites are worth considering for virtual field trips. Some are built as all-inclusive virtual trips with text and audio; others provide only imagery which can be adapted to fit the needs of a lesson.
UPDATED: After receiving 45,000+ downloads of this resource, I decided to update and expand the list from 40+ sites to 50 sites plus a Youtube playlist of 360-degree videos. Additionally, I added more than 10 combined websites, videos, and apps for AR & VR!
If you like this packet, please consider the following educational resources available in my store:
1. Absolute & Relative Location Assignment: NFL Football Teams + Google Earth Tour Learn latitude and longitude in this fun, interactive assignment!
2. Let's Explore the Continents! – Use Map Skills to Find Places – Bundle Practice challenging map skills to find and learn about places all over the world!
3. Create a Country Geography Skills Project Create your own country and learn about the challenges a nation faces!
4. Pirate Pete's Treasure Map Project: Teach hands-on geography skills in a fun, memorable way!
5. Fifty (50) Landforms and Bodies of Water Workbook/Visual Dictionary Draw and memorize different types of landforms and bodies of water!
6. World Cultures Theme Park Map Project – Differentiated Instruction! Express what you have learned about a new culture in this fun, interactive map-making project!
7. The Aquarium Map Scale Project Create your own touring aquarium and learn an important skill in map scale!
8. The Create Your Own Culture Project Throughout this project, students are challenged to create unique cultural characteristics and explain them thoroughly.
9. A to Z Geography The "A-to-Z Countries" and "A-to-Z World Cities" assignments require students to find a country or world city for each letter of the alphabet.
10. The What's on the Menu? Project Students will research global cuisines and then write a restaurant menu with their findings. This assignment allows them to learn about cultural similarities and differences around the world, particularly the foods people eat.
**The page border I used in this product's pages was created by A Sketchy Guy.
https://www.teacherspayteachers.com/Product/50-Interactive-Web-Sites-for-Virtual-Field-Trips-Tours-1046587
Join The Best of Teacher Entrepreneurs Marketing Cooperative at
https://thebestofteacherentrepreneursmarketingcooperative.net/the-best-of-teacher-entrepreneurs-marketing-cooperative-one-year-membership/
and get THOUSANDS OF PAGE VIEWS for your TpT products!

Go to http://www.pinterest.com/TheBestofTPT/ for even more free products!