by Rockin Resources
2nd – 6th Grade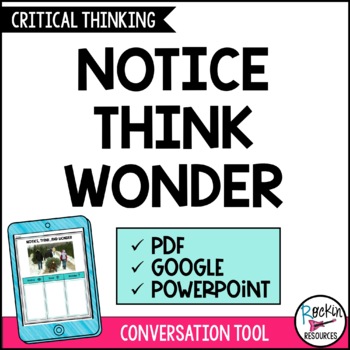 FREE Christmas Critical Thinking
NOW AVAILABLE IN PDF, POWERPOINT, AND GOOGLE
This activity works well on the smart board for whole group discussion or printed off for group discussion. You will be amazed at how much students will notice, think, and wonder about one illustration.
Notice Think and Wonder is a great tool to encourage Critical Thinking!
NOTICE: What do you notice in the image? Look closely at all the details. What do you see?
THINK: Think deeper. With the things you noticed in the image, what are you thinking about? What may be happening when the image was created?
WONDER: Think even deeper. What do you wonder about the image? What does it make you question? What needs more clarification?
Are you looking for more Notice, Think, and Wonder worksheets? This bundle offers 12 different images (including this Christmas one) – Notice, Think, Wonder
This is also part of our Christmas bundle loaded with Common Core literacy activities:
Christmas Literacy Bundle- 16 products included at a bundle price!
In the bundle- Christmas products:
1. Christmas Figurative Language Worksheets
2. Christmas Around the World Web Quest, Booklet, Passport and Doll
3. Santa's Parts of Speech at the Beach Coloring Activity
4. Christmas Poetry Writing- Cinquains with 12 templates
5. Legend Study with Poinsettia Craft
7. Christmas Synonyms Center- A Gift of Synonyms
8. If I Had a Nose That Glowed Writing and Craft Activity
9. Christmas Critical Thinking- Notice, Think, and Wonder
10. An Outlaw Christmas- Text, Timeline, Cause and Effect
11. Christmas Decorating- Argumentative Writing
12. Poetry Analysis- Stopping By Woods on a Snowy Evening
14. Christmas Templates to Use for Bulletin Boards
Thank you for visiting my store!
Pam
Rockin Resources
Are you looking for different products?
STEP-BY-STEP WRITING PROGRAMS (GRADES 1-8) -motivate students AND boost test scores!
Holiday and Monthly Resources

https://www.teacherspayteachers.com/Product/Christmas-Critical-Thinking-2224302
Join The Best of Teacher Entrepreneurs Marketing Cooperative at
https://thebestofteacherentrepreneursmarketingcooperative.net/the-best-of-teacher-entrepreneurs-marketing-cooperative-one-year-membership/
and get THOUSANDS OF PAGE VIEWS for your TpT products!

Victoria Leon's TpT Store
Go to http://www.pinterest.com/TheBestofTPT/ for even more free products!