by HappyEdugator
1st – 4th Grade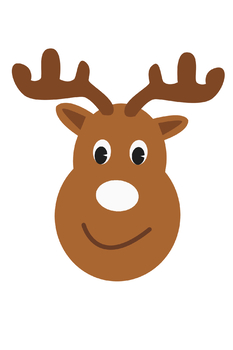 A fun Christmas Party Game! Stick or Pin the Nose on the Reindeer. Try this quick little game that is fun for all ages. Print out the reindeer with no nose, and then hang it up on the wall. Use a red pom pom for the nose for Rudolph or a black one if you want to make a different reindeer or caribou. Instead of using pins, get some petroleum jelly, put some where the nose is supposed to go, and give each contestant a dab on their nose! Kids have to stick a pom pom on their nose, walk over to the reindeer poster, and attempt to transfer the pom pom nose to the reindeer's face! It's pretty difficult, so no blindfolds are necessary! Enjoy this free printable for some quick fun this Christmas at school or at home for your holiday gathering! Merry Christmas!
© Deborah Hayes aka HappyEdugator. For classroom and homeschool use. Your purchase buys one license. You may purchase extra licenses at a discount.
Follow me HERE to get notified of updates, sales, free resources, and new products. All new products are 50% off for 48 hours.

https://www.teacherspayteachers.com/Product/Christmas-Party-Game-Printable-Freebie-Stick-the-Nose-on-the-Reindeer-4267367
Join The Best of Teacher Entrepreneurs Marketing Cooperative at
http://www.thebestofteacherentrepreneursmarketingcooperative.com/2014/01/the-best-of-teacher-entrepreneurs.html
and get THOUSANDS OF PAGE VIEWS for your TpT products!

Victoria Leon's TpT Store
Go to http://www.pinterest.com/TheBestofTPT/ for even more free products!