by Mizell Multiage
Pre-Kindergarten – 10th Grade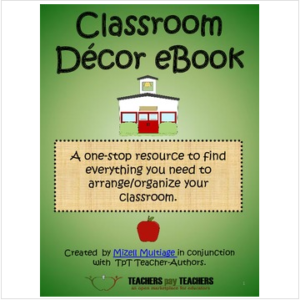 This eBook is a collaborative effort from TpT Sellers.
Many schools only give teachers a couple of days to prep for the start of a new school year. New teachers and even returning teachers who want to change up the look of their room have a hard time setting up the classroom with such short notice. I hear so many teachers say they would love to have a classroom theme or a better designed room if they could just find all the materials in one place.Well, here is the solution…. the Classroom Decor eBook.
The Classroom Décor eBook includes links to products, freebies, tips, and advice on organizing and arranging a classroom!
Once you download the FREE eBook, you can click on the pictures for a link directly to the product shown. You can also click on the name listed below the pictures for a link directly to the TpT store. Many of these TpT sellers have multiple classroom décor products, so be sure to browse through their store.
Table of Contents
Resource Type: Page
Behavior Charts 4-5
Calendar 6-8
Classroom Labels 9-10
Name/Desk Tags 11-13
Other 14-16
Posters 17-20
Themed Décor Sets 21-27
Word Wall 28-31
Tips and Advice:
Classroom Arrangement 33-34
Classroom Organization 35-36
Classroom Décor 37
General Classroom Advice 38
Have a wonderful school year!
Roseanne Mizell,
Mizell Multiage
https://www.teacherspayteachers.com/Product/Classroom-Decor-eBook-857675