by The Creative Classroom
2nd – 12th Grade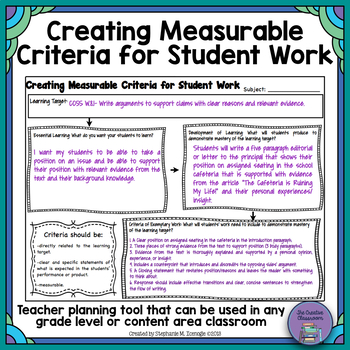 As we all know, a major component of the Common Core State Standards is students being able to self assess their learning and evaluating the work they produce. Therefore, it is our job as teachers to provide students with a list of measurable criteria that they can use to self assess their progress towards a learning target. In addition, the list of measurable criteria can help you to create models of exemplary work that students can also use to self assess. This step by step handout will help you to focus on the learning target to identify essential learning and develop how students will demonstrate mastery of the learning target. You can then take these pieces of the puzzle to create clear and specific statements that describe exactly what your students needs to do to master their learning in any subject. There is also a model handout already completed to help guide you through the process of creating measurable criteria.
Created by Stephanie M. Icenogle, The Creative Classroom © 2013
All rights reserved by author.
Permission to copy for single classroom use only.
Electronic distribution limited to single classroom use only.

https://www.teacherspayteachers.com/Product/Creating-Measurable-Criteria-for-Student-Work-723401
Join The Best of Teacher Entrepreneurs Marketing Cooperative at
https://thebestofteacherentrepreneursmarketingcooperative.net/the-best-of-teacher-entrepreneurs-marketing-cooperative-one-year-membership/
and get THOUSANDS OF PAGE VIEWS for your TpT products!

Victoria Leon's TpT Store
Go to http://www.pinterest.com/TheBestofTPT/ for even more free products!