by Dragons Den
2nd – 6th Grade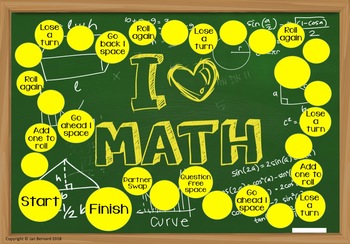 Figurative Language Teaching PagesResearch proves that learning happens best when it is combined with fun and social interaction. Games easily provide both of these elements! Finding just the right game board that can adjust itself to individual curriculums can be a challenge, but not anymore! This free resource gives you a color and a black and white version of two game boards, one for reading and one for math. Questions are NOT included. The boards are made to go with any task card questions you already have (or your own questions) you already use, as directed by your particular curriculum. Just add dice, or a spinner and you're good to go. You may choose to use placeholders you already have, or use a nickel and a dime.
Included in this resource:
A World of Reading game board full color
A World of Reading game board black and white
I Love Math game board full color
I Love Math game board black and white
======================================================================
If you and your students enjoy this resource, you may want to check out the full resource this freebie is taken from. It includes game boards for sports, curriculum and all major holidays.
Ultimate Game Board Kit for Curriculum, Holidays, and Sports
=======================================================================
About this Teacher Author
Jan Bernard
National Board Certified Teacher (2001-2011), Masters in Curriculum, Gifted Certified, Cobb County Elementary Teacher of the Year, Addison Elementary Teacher of the Year, Bullard Elementary Teacher of the Year, Atlanta Journal and Constitution Honor Teacher finalist ($5000 award), District 3 Georgia Science Teacher of the Year, Author of seven books published by The Child's World Press, Wrote online k-12 social studies and language arts curriculum for Coca Cola, curriculum writer for CNN, curriculum writer for American Legacy Publishers 2009-2014, 25 years teaching experience in grades 1st-4th.
=============================================================
To get 1/2 off on all new products during the first 48 hours after launch, click on the "follow me" button next to the green star.

https://www.teacherspayteachers.com/Product/Free-Game-Boards-4321206
Join The Best of Teacher Entrepreneurs Marketing Cooperative at
http://www.thebestofteacherentrepreneursmarketingcooperative.com/2014/01/the-best-of-teacher-entrepreneurs.html
and get THOUSANDS OF PAGE VIEWS for your TpT products!

Victoria Leon's TpT Store
Go to http://www.pinterest.com/TheBestofTPT/ for even more free products!