by SNAPPY DEN
6th – 9th Grade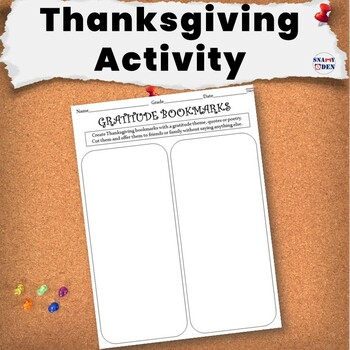 Did you like this free sample of the Thanksgiving bundle with 70+ more activities?
Would you like to celebrate Thanksgiving in an innovative and exciting manner? Is one of your goals to inspire students by researching about this popular holiday? Would you be interested in implementing project based learning and other out of the box activities in your class?
If you found something that gave you all these benefits, would you want to get started with it right away?
Think about what a difference it would make if you started using this Thanksgiving bundle with 70+ activities in your class! It includes:
⭐ Thanksgiving Activities – 15 Worksheets, Tasks, Crafts, Prompts
⭐ Thanksgiving Craft and Writing Activity – The Gratitude Pizza
⭐ Thanksgiving Unit – Bell Ringers, Paired Texts (informational article, poetry, short story) with activities, Writing Prompts (argumentative, narrative, informative)
⭐ Thanksgiving Poetry Writing Activities – 7 Poem Templates
⭐ Thanksgiving Picture Writing – 30 Prompts Inspired by Festive Photos
Printable and Google Slides version for all resources except the Gratitude Pizza
The activities are easy to share and require almost no prep so you can use them in any format you want which means saving precious time during the Thanksgiving season.
Because activities focus on creative writing, self-discovery, vocabulary, social emotional learning and personal response, you can have a meaningful lesson so your students will be motivated and engaged to give their best during class.
The catchy challenges and interactive prompts will help you evaluate the students' ELA skills without putting any pressure on them so you will have an accurate picture of the places where they need intervention.
Just imagine how you will feel when you start to get the benefits and results from this resource right in your class!
Are you afraid that this Thanksgiving activity pack will not match the needs of your students? I understand exactly what you feel. Don't worry! Just try it and if you find this resource not suitable for your class, just email me at thesnappyden@gmail.com and I'll get you a full refund.
⭐⭐⭐⭐⭐ Ema T. has tried the Thanksgiving activities in her class and said, "Oh, I love this! So versatile as I can place it in several spots within a unit, and great quality content. Thank you so much!"
Why don't you give it a try? Click on the "Add one to cart" green button and you can use it right away!

https://www.teacherspayteachers.com/Product/FREE-Thanksgiving-Craft-and-Writing-Activity-8578599
Join The Best of Teacher Entrepreneurs Marketing Cooperative at
https://thebestofteacherentrepreneursmarketingcooperative.net/the-best-of-teacher-entrepreneurs-marketing-cooperative-one-year-membership/
and get THOUSANDS OF PAGE VIEWS for your TpT products!

Go to http://www.pinterest.com/TheBestofTPT/ for even more free products!