by Victoria Leon
Pre-Kindergarten – 12th Grade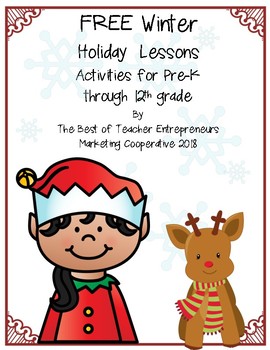 We hope you enjoy these free holiday lessons by The Best of Teacher Entrepreneurs Marketing Cooperative!
Emergent Reader Sampler: Christmas
Twenty-five Kisses till Christmas
English Gingerbread Colors
Christmas Language Sequencing: Free Sample
Free Sample of Fall Halloween Harvest Odd Even Math for Young Learners
Winter Blends FREEBIE
Christmas Writing – I Need Help!
Reading for the Common Core Bookmark
3rd Grade Math for December – FREEBIE!
Read Draw Write Stocking Stuffers Multiplication Worksheet Sneak Peek
Mindful Thoughts Journal: Winter Break / Problem Solving Mindfulness Activities
FREE Winter Multiplication Activities NO PREP
A, B, C's of Number Tiles – Problem Solving Math Activities – FREE Version
Happy Hanukkah Coloring Banner
FREE Communication Boards for Hanukkah and Christmas for AAC Users
More Free Lessons
IF YOU ARE NOT ABLE TO OPEN THIS FILE or you have any questions, feel free to email me at vleon999@yahoo.com.
Wishing you the very best during the holiday season,
Victoria Leon and members of The Best of Teacher Entrepreneurs Marketing Cooperative

https://www.teacherspayteachers.com/Product/Free-Winter-Holiday-Lessons-By-The-Best-of-Teacher-Entrepreneurs-MC-2018-4201237
Join The Best of Teacher Entrepreneurs Marketing Cooperative at
http://www.thebestofteacherentrepreneursmarketingcooperative.com/2014/01/the-best-of-teacher-entrepreneurs.html
and get THOUSANDS OF PAGE VIEWS for your TpT products!

Victoria Leon's TpT Store
Go to http://www.pinterest.com/TheBestofTPT/ for even more free products!