by Primary Paradise
Pre-Kindergarten – 5th Grade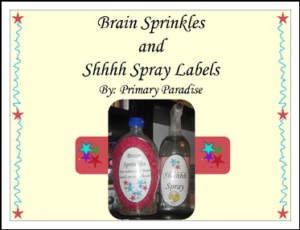 Sometimes our students could use a little magic in their lives. Use these two labels to create some magical Brain Sprinkles and Shhhh Spray.
Brain Sprinkles are used to give a student's brain an extra boost before a test, when they're stuck on a problem, or when they're just having a rough day. Just shake some brain sprinkles over their head and watch the light bulb moment happen! (A lot of time when when students are stuck, they really need to just relax and destress. Brain Sprinkles are a fun way to make students smile and relax a bit which helps get their creative juices flowing again)
Shhhh Spray is used to help students who need a magical reminder to quiet down. This can be used before a test, before walking in the hallway, or any time. Just spray some Shhhh Spray in the air and watch the voice turn off magically! I don't spray Shhhh Spray at a specific student, rather I freshen the air with it like air freshener. (Note: make sure the spray bottle is cleaned our and empty)
I like to use both Brain Sprinkles and Shhhh Spray right before a big test.
I hope you enjoy!
Please check out my other classroom management resources!
EASY Everyday Procedures and Management Ideas
Buzz Worthy BEEhavior Management Packet
Odds and Ends Sign- Bee Theme (FREE!)