by Cez-Anne Designs
Kindergarten – 2nd Grade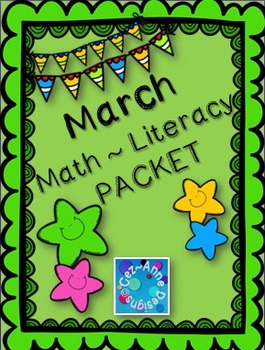 Find me on Pinterest!
Cez~Anne Designs
Just Print and Go!
Here are eight pages to sample pulled from my thirty-one page packet of options to add to your instruction during literacy or math block or use for extra practice during morning work or homework. Full packet includes acknowledgment of March celebrations (National Pig Day, Dr. Seuss Day, and St. Patrick's Day).
Full packet includes the following…find it at…
NO PREP!!! March Math and Literacy Packet
Phonics ~ Beginning and ending blends
Alphabetical order
Label the picture
Building compound words
Plurals ~ Spelling patterns
Punctuation ~ sentence endings
Building sentences
Parts of speech ~ Noun vs. adjective
Parts of speech ~ Verb forms
Identifying opposites
Graphing
Fact families
Roll and color adding 10
Skip counting by 5
Counting backwards (2, 5, 10)
Time ~ Analog and digital
Tally count
10 more 10 less
Coin counting
Missing addends
3 addend number models
Number stories
Fractions
This download is for one personal classroom use only. Duplication or sharing with other classrooms, co-workers, an entire school system, or posting on any website or blog violates copyright law. Thank you for understanding.
After purchase/ download, please return to my store and leave feedback!
***Remember*** When you leave feedback, you earn points to redeem at a later date for purchases!!! It's a Win-Win Situation 😉

https://www.teacherspayteachers.com/Product/Freebie-NO-PREP-March-Math-and-Literacy-Packet-Sample-1712430
Join The Best of Teacher Entrepreneurs Marketing Cooperative at
https://thebestofteacherentrepreneursmarketingcooperative.net/the-best-of-teacher-entrepreneurs-marketing-cooperative-one-year-membership/
and get THOUSANDS OF PAGE VIEWS for your TpT products!

Victoria Leon's TpT Store
Go to http://www.pinterest.com/TheBestofTPT/ for even more free products!