by Cez-Anne Designs
Kindergarten – 2nd Grade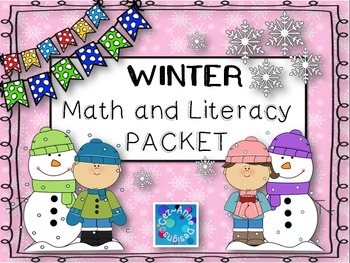 Find me on Pinterest!
Cez~Anne Designs
FREEBIE ~ Sample my NO PREP Winter Math and Literacy Packet.
Full packet includes 38 pages of options to add to your instruction during literacy or math block or use for extra practice during morning work or homework. Packet includes acknowledgment of winter holidays (Martin Luther King Day, Groundhog Day, Valentine's Day, and President's Day).
NO PREP!!! Winter Math and Literacy Packet
Practice includes:
Phonics (long vowel sounds spelling patterns)
Alphabetical order
Label the picture
Building compound words
Punctuation (sentence endings)
Syllable Count
Graphs
Domino subtraction
True/ False number models
Skip counting (2, 5, 10)
Time
Coin counting
Missing addends
Roll and color
Number stories
Close reading
This download is for one personal classroom use only. Duplication or sharing with other classrooms, co-workers, an entire school system, or posting on any website or blog violates copyright law. Thank you for understanding.
After purchase/ download, please return to my store and leave feedback!
***Remember*** When you leave feedback, you earn points to redeem at a later date for purchases!!! It's a Win-Win Situation 😉

https://www.teacherspayteachers.com/Product/Freebie-NO-PREP-Winter-Math-and-Literacy-Packet-Sample-1658120
Join The Best of Teacher Entrepreneurs Marketing Cooperative at
https://thebestofteacherentrepreneursmarketingcooperative.net/the-best-of-teacher-entrepreneurs-marketing-cooperative-one-year-membership/
and get THOUSANDS OF PAGE VIEWS for your TpT products!

Victoria Leon's TpT Store
Go to http://www.pinterest.com/TheBestofTPT/ for even more free products!