by Evenings With Drake
Kindergarten – 5th Grade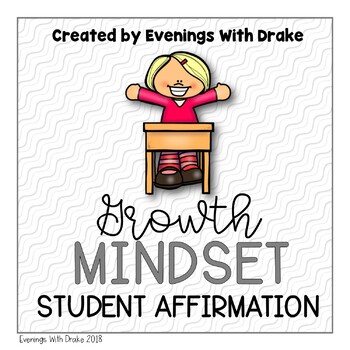 This encouraging and motivational resource is one that you may choose to have your students choral read daily. It reaffirms that students are indeed smart, special, and valuable! It can be used as an introduction to the topic of growth mindset and also makes a great back-to-school or "getting to know you" activity!
Do you have students that could use some motivation in getting their voices heard? This resource may help:
Growth Mindset Motivational Poster and Journal Set (Speak Up for Yourself!)
What's Included?
*Growth Mindset Student Affirmation (w/girl image)
*Growth Mindset Student Affirmation (w/boy image)
*Growth Mindset 2-Page Adjective List
*Growth Mindset Free Draw Page (perfect for lower grades)
*Growth Mindset Writing Template Page (perfect for upper grades)
Gentle Suggestions/Tips/Reminders:
*Are your kiddos are bored and tired of reading? Use this resource to start a friendly reading competition by playing the game of "Versus": Boys Vs. Girls; Teacher Vs. Students; Team 1 Vs. Team 2; Green Group Vs. Purple Group; etc. 🙂
*Get your students writing! Use this resource as a fun way of getting your students to read, recognize, and write high frequency/sight words. Growth Mindset Free Draw and Writing Template Pages have been included and can be used for this purpose. SUGGESTION: When your students' writing is complete, you may wish to display it on a growth mindset bulletin board or character education wall.
*The Growth Mindset 2-Page Adjective List can be placed in writing folders or utilized during writer's workshop.
Enjoy this freebie! 🙂
–Evenings With Drake
Thanks so much for stopping by!
Interested in growth mindset? Click link below, then scroll down to view more growth mindset resources:
**I love new followers! Click on the green star below my store name and become one! You'll be notified about new product uploads, sales, freebies, and more! 🙂

https://www.teacherspayteachers.com/Product/Growth-Mindset-Student-AffirmationMotivation-Freebie-1730973
Join The Best of Teacher Entrepreneurs Marketing Cooperative at
http://www.thebestofteacherentrepreneursmarketingcooperative.com/2014/01/the-best-of-teacher-entrepreneurs.html
and get THOUSANDS OF PAGE VIEWS for your TpT products!

Victoria Leon's TpT Store
Go to http://www.pinterest.com/TheBestofTPT/ for even more free products!