by Big Idea Learning
Pre-Kindergarten – 2nd Grade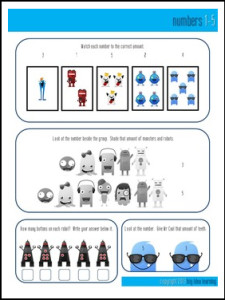 This is a 3-page sample of the Monsters vs Robots Mathematics and Literacy Fun Unitthat I have just released. The 3 pages are: numbers 1-5, adding numbers and nouns.
Mathematics and Literacy – fun and relevant? You bet, and hopefully this helps. This gorgeous unit of work covers many areas across the CCSS and Australian National Curriculum through 40 high-interest, engaging activity pages.
I trust you are able to make great use of it in your class or home. This unit is designed to look great in both color and grayscale. Some people are able to print in color, or have access to projectors or smartboards – so I wanted to provide for them. Yet, I'm very aware of printing constraints and I'm confident you will be happy with how it looks printed in grayscale if you can't justify the color version. This unit could be used like a booklet or you could print and use whichever lessons you need. I was also careful to use non-specific UK/US spelling.
The unit is available for purchase now. It has 40 pages of high-interest activities and worksheets. In the meantime – enjoy the sample!
Please feel free to ask any questions and leave feedback on the product page!
cheers,
big idea learning
Monsters vs Robots Mathematics and Literacy Fun Unit
https://www.teacherspayteachers.com/Product/monsters-vs-robots-maths-and-literacy-fun-freebie-751051
Go to http://www.pinterest.com/TheBestofTPT/ for even more free products!