by Laura Lanzi
Pre-Kindergarten – 1st Grade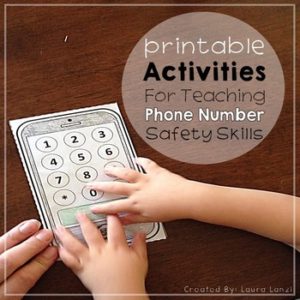 Safety is one of the most important skills to teach a student. This packet helps students to memorize personal and emergency phone numbers.
This packet is packed with fun and interactive ways to teach students their personal phone number as well as important emergency phone numbers.
Included in this packet:
-Clear instructions to aid in teaching students about emergency and personal phone numbers
-10 traceable numbers with phone number templates, make for an easy and frustration free learning process.
-Printable phones, for coloring and practice dialing to get students familiar with a phone and how it works.
-911 Emergency Worksheet: Practice the importance of 911, by tracing and practice dialing
-Personal Phone Number Worksheet: Practice personal phone numbers for extended learning and memorization.
Looking for some handwriting practice? Check out these great tracing and handwriting activities:
Tracing BUNDLE
Name Trace Precursor Writing Program
Color Tracing and Identification 
To the Moon: Uppercase Letter Trace
To the Moon: Number Trace
THANK YOU!!
Follow my TPT Store by clicking on the green star next to my profile picture at the top of my store page!
Want sneak peeks of upcoming projects and access to flash freebies?
Follow me on Facebook
Enjoy!
https://www.teacherspayteachers.com/Product/Phone-Number-Safety-Skills-Free-2131736