by Sweet Integrations
3rd – 6th Grade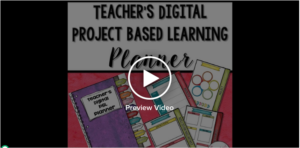 Planning ahead and organization are key elements in implementing a successful project based learning unit. Whether you are planning your day by day lessons or your presentations, you want to stay ahead of the game.
With Google Slides™, I've designed an easy to follow PBL planner for you to use with your next unit. This video will give you an idea of what's inside the digital planner. (Tips are added) And, you can use this planner over and over again.
For the complete digital planner product: CLICK HERE
*******************************************************************
Click HERE to subscribe to my newsletter to receive special offers, giveaways and new products.
Customer Tips
Earning TPT Credits
TpT credits are points, which can be applied to future purchases which will save you money. For every dollar you spend on TpT, you'll earn 1 credit.
After you make a purchase, rate and comment fairly on the product page of your purchased item. You need to do both to earn your credits. I value your feedback so I can create quality products for your classroom.
*******************************************************************
If you become a follower, you'll be the first:
– To know about new sales and discounts,
– Free products,
– And new product launches
You will now receive email updates about my store.
Drop by my blog, Sweet Integrations for more ideas for your classroom!
Google and Google Apps are trademarks of Google Inc. © 2015 Google Inc. All rights reserved. Sweet Integrations is not affiliated with and has not been authorized, sponsored, or otherwise approved by Google Inc.
*******************************************************************
https://www.teacherspayteachers.com/Product/Planning-Your-Project-Based-Learning-Unit-Digital-Teacher-Planner-3326863