by TeachingFSL
8th – 12th Grade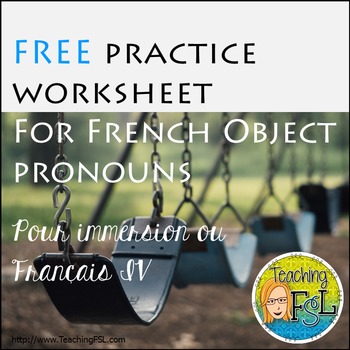 Pronoms Complements – Feuille de pratique GRATUITE
Vos étudiants utiliseront tous les pronoms (directs, indirects, adverbials, etc.) avec cette feuille gratuite qui comprend des questions avec 2 pronoms, l'accord au passé composé, et les réponses négatives.
Si vous aimez ce produit, laissez-moi de la rétroaction s'il vous plaît. Pour des changements, des suggestions ou si vous avez des autres questions, veuillez me joindre par courriel (l'adresse est dans le produit) ou par l'onglet de Questions & réponses ci-dessous.
Mme Aiello
Teaching FSL
++++++++++++++++++++++++++++++++++++++++++++++++
Students practice replacing various complements with the correct pronoun on this one page sheet, which includes agreement with direct objects in the past tense, double object pronouns and both the affirmative & negative forms.
If you like this product, please leave me feedback. For any suggestions or questions, please email me (address is within the package) or use the Q&A feature below. Follow me for information on new products by clicking the green star above or click here.
Mme Aiello
Teaching FSL

https://www.teacherspayteachers.com/Product/Pronoms-Complements-Feuille-de-pratique-GRATUITE-1245689
Join The Best of Teacher Entrepreneurs Marketing Cooperative at
https://thebestofteacherentrepreneursmarketingcooperative.net/the-best-of-teacher-entrepreneurs-marketing-cooperative-one-year-membership/
and get THOUSANDS OF PAGE VIEWS for your TpT products!

Victoria Leon's TpT Store
Go to http://www.pinterest.com/TheBestofTPT/ for even more free products!