by Teacher Karma
Pre-Kindergarten – 12th Grade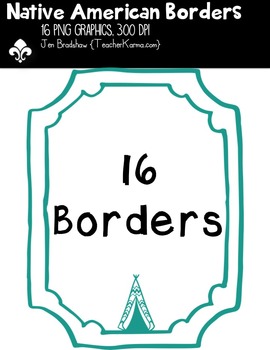 Native American Borders Clipart!
These are perfect for your TPT for sale products. You will LOVE these ** 16 ** graphics that are so much FUN! They are absolutely perfect for adding to parent newsletters, literacy and writing stations, activities, printables and student worksheets, class invitations, etc.
These graphics may be added to your classroom materials and resource products that you sell.
There are 16 great graphics included in this download. Each png graphic was created at 300 dpi.
Black borders: 8
Turquoise borders: 8
What you need to know:
These graphics may be added to your classroom materials and resource products that you sell.
These graphics are intended for you to create your own teaching resources in a document form. The images must be embedded and NOT easily extracted.
In the download, there are instructions on how to give me credit for these images. Please make sure that you are using the graphics within a document, and not an image file.
The graphics absolutely may NOT be shared for any reason. You may also NOT use these graphics to create your own clipart. If you have any questions about this, please contact me at the email below.
It is fine to use for commercial or personal use, but please read and adhere to the Terms of Use Policy included in the file. 🙂
Looking for additional graphics to create your resources??? Click on the links below!
Borders: Native American Style
If you are not following me, please join me! I LOVE to give away freebies!!! 🙂 I also appreciate your feedback, so please take a moment to rate my product.
Thank you for visiting Teacher Karma. Have fun and enjoy!
Best Wishes!
Jen
juststylemejen@gmail.com
I would LOVE for you to check out my blog:
Teacher Karma Blog

https://www.teacherspayteachers.com/Product/Teepee-Native-American-Borders-Clipart-2157330
Join The Best of Teacher Entrepreneurs Marketing Cooperative at
http://www.thebestofteacherentrepreneursmarketingcooperative.com/2014/01/the-best-of-teacher-entrepreneurs.html
and get THOUSANDS OF PAGE VIEWS for your TpT products!

Victoria Leon's TpT Store
Go to http://www.pinterest.com/TheBestofTPT/ for even more free products!