by J MASON EMERSON
Pre-Kindergarten – 12th Grade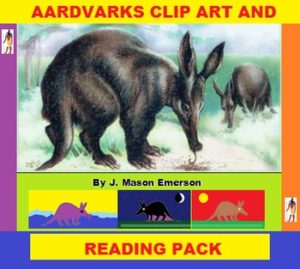 Aardvarks Clip Art And Reading Pack has 32 public domain images of aardvarks. There are color photos and black and white drawings. Insofar as instructions or suggestions go, you can enlarge or shrink the public domain images' sizes, move the images around, etc. The images are handy for any classroom (Pre-K through higher ed) and any age or ability level but teachers of art and natural studies in science will likely regard them as being of special interest. Teachers of Pre-K students up will find them handy for using as reward stickers, for classroom décor, etc.
Sources for the aardvark public domain clip art here and in other similar publications include wpclipart.com, clker.com, wikipedia.org, plates from the 1800s works of John Gould, John James Audubon, various federal government agencies, and a few from myself. To summarize:
Contents: Aardvark Images (32, public domain); Quick Facts About Ardvaarks in first English then non-Castillian, Latin American Spanish which should help Spanish-speaking students in regular classes or ESL; Aardvark In Multiple Languages; Aardvark Board Game Template (similar to Candyland or Aggravation); 20 Ways To Teach With Clip Art About Aardvarks Etc; Details For Educational Games (including for teaching about aardvarks; Aardvarks Word Search; Answers Key For Aardvarks Word Search; True-False Test About Aardvarks.
If you don't have ELL's now, then you may later. This is dedicated to my wife Barbara, a science teacher for 28 years.
https://www.teacherspayteachers.com/Product/AARDVARKS-CLIP-ART-AND-READING-PACK-1543912