by Trail 4 Success
2nd – 6th Grade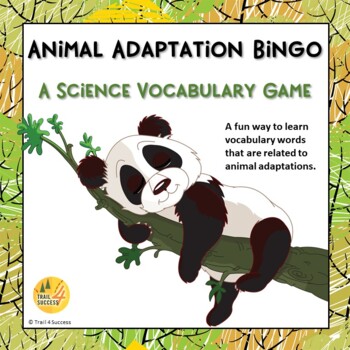 Animal Adaptations Science Vocabulary Bingo Game Printable
This printable animal adaptations bingo game includes 16 vocabulary words that match most state's science standards. Students write the animal adaptations vocabulary words in random order on their bingo form. Adaptation vocabulary clue cards with definitions are included along with complete instructions. Great for review before science assessment assessments about animal adaptations.
Comments from teachers who have used this game in their classroom:
"My class had so much fun playing this. I like how it incorporated new vocabulary as well as old."
"Great activity. I used the vocab from the game as a guide for previewing and reinforcing during reading activities. Students then made vocabulary drawings in their notebook for the terms and then we played the bingo, it was a great support all through the unit."
"This is marvelous – thank-you! So adaptable to all units! I will check out your store."
************************************************************************************************************
Animal Adaptations – Fact or Fiction? Interactive PowerPoint Lesson
Check out my animal adaptations reader's theater entitled Ranger Lox and the Three Vores.
Check out my other animal adaptation activities:
Integrate reading and animal adaptations by having students create a pocket book!
Wacky Insect Adaptations Mini Book Webquest Research Activity
Animal Adaptations Task Cards – Set of 32 Science Brain Builders
Animal Adaptations "Busy Beaks" Fun Hands On Investigation Activity
Animal Adaptations Cards Printable Research Project Common Core
Real-Life Animal Adaptations PowerPoint + Printable Worksheet
Wacky Animal Adaptations Webquest Research Activity Common Core
Animal Habitats, Types of Eaters, Living Things, 3 Classification Color Wheels
I have other Science Bingo games too.
Science Ecosystems + Food Chains Bingo Game
Science Earth, Moon, + Sun Bingo Game
If you like this activity, check out my Science Brain Builders task card sets:
Seven sets – 244 cards in all, my complete bundle of Science Task Cards.
Earth, Moon, and Sun Science Task Cards
Heating Up! Heat Energy Science Task Cards
All About Electricity Science Task Cards
Fantastic Fossils Science Task Cards
All About Magnets Science Task Cards
*************************************************************************************************************
Customer Tips:
How to get TPT credit to use on future purchases:
• Please go to your My Purchases page (you may need to
login). Beside each purchase you'll see a Provide Feedback button.
Simply click it and you will be taken to a page where you can give a quick rating and
leave a short comment for the product. Each time you give feedback, TPT gives you
feedback credits that you use to lower the cost of your future purchases. I value your
feedback greatly as it helps me determine which products are most valuable for your
classroom so I can create more for you.
Be the first to know about my new discounts, freebies and product launches:
• Look for the green star next to my store logo and click it to become a follower. You will now receive email updates
about this store.
All new products are on sale for one day after they are listed!
Follow my Trail 4 Success TPT store so you don't miss out.
Copyright© 2019 Trail 4 Success
All rights reserved by author.
Permission to copy for single classroom use only.
Electronic distribution limited to single classroom use only. Not for public display.

https://www.teacherspayteachers.com/Product/Animal-Adaptations-Science-Vocabulary-Bingo-Game-Printable-125688
Join The Best of Teacher Entrepreneurs Marketing Cooperative at
https://thebestofteacherentrepreneursmarketingcooperative.net/the-best-of-teacher-entrepreneurs-marketing-cooperative-one-year-membership/
and get THOUSANDS OF PAGE VIEWS for your TpT products!

Go to http://www.pinterest.com/TheBestofTPT/ for even more free products!