by Wise Owl Factory
Kindergarten – 2nd Grade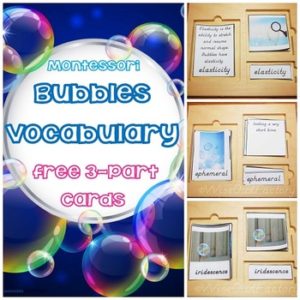 Free Bubbles Vocabulary 3-Part Montessori Cards
This is a set of 3 part cards that could be used in a tray or rug activity. It could also be used as a center in a traditional primary school. There are 4 cards for each vocabulary term for differentiation. Select 2, 3, or 4 cards as best suits the students.
These cards could be used in conjunction with a bubbles unit, text, and/or experiments.
The vocabulary includes:
adhesive
cohesive
elasticity
ephemeral
gravity
iridescence
reflection
surface tension

Carolyn Wilhelm
Wise Owl Factory
https://www.teacherspayteachers.com/Product/Free-Bubbles-Vocabulary-3-Part-Montessori-Cards-2000545