by UtahRoots
6th – 9th Grade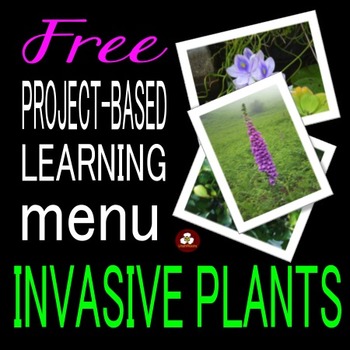 This is a free sample of my 51 page resource on invasive plants which you can see HERE
This project-based learning menu can be used with or without the book Wicked Plants by Amy Stewart. The menu includes nine different projects from which students can choose to conduct individual or group research to answer these driving questions:
How can the spread of the invasive plant be limited?
How can we educate citizens so that they can contribute to limiting the spread of invasive species?
Why is there such urgency in addressing the spread of invasive species?
What is the potential economic impact, both positive and negative of invasive species?
What role can the law play in controlling the spread of invasive species?
How could we create effective fund raising efforts to control invasive species?
What can we learn from models and simulations?
What lessons have we already learned about controlling invasive species?
How can we make the public understand and care about the invasive species problem?
Connect with me by following My Blog or by following me on Pinterest
Customer Tips:How to get TPT credit to use on future purchases:
• Please go to your My Purchases page (you may need to login). Beside each purchase you'll see a Provide Feedback button. Simply click it and you will be taken to a page where you can give a quick rating and leave a short comment for the product. I value your feedback. It helps me to make resources that meet your needs.
Be the first to know about my new discounts, free resources and product launches.

https://www.teacherspayteachers.com/Product/FREE-Project-Based-Learning-Menu-for-Invasive-Plant-Units-2126749
Join The Best of Teacher Entrepreneurs Marketing Cooperative at
https://thebestofteacherentrepreneursmarketingcooperative.net/the-best-of-teacher-entrepreneurs-marketing-cooperative-one-year-membership/
and get THOUSANDS OF PAGE VIEWS for your TpT products!

Victoria Leon's TpT Store
Go to http://www.pinterest.com/TheBestofTPT/ for even more free products!