by My Happy Place
Kindergarten – 2nd Grade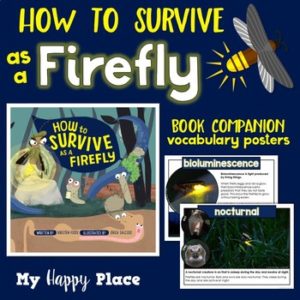 This freebie includes five vocabulary posters that supplement the book How to Survive as a Firefly by Kristen Foote (illustrated by Erica Salcedo). The posters include photographs, definitions, and examples of vocabulary words from the book. The posters are also included in a smaller (quarter page) flashcard size.
The included vocabulary words are: metamorphosis, nocturnal, bioluminescence, insect, and predator.These vocabulary resources are useful for inclusion in a science center or as part of a unit on insects or life cycles.
About the Book
How to Survive as a Firefly is an entertaining and educational picture book that combines cartoon-like illustrations, humor, and lots of facts about fireflies. This book is full of tidbits of knowledge that range from simple facts to more complicated scientific details.
Book images created by Erica Salcedo are used with permission from The Innovation Press.
If you have any questions, you can use the "Ask a Question" feature on my store page or email me at MyHappyPlaceTeachingProducts@gmail.com.
I would love to have you as a follower! Click the green star to be the first to know about new products and freebies!  
Thank you for shopping!
Susan Jennings (My Happy Place)
https://www.teacherspayteachers.com/Product/How-to-Survive-as-a-Firefly-Vocabulary-Posters-3396420