by Amy Brown Science
6th – 12th Grade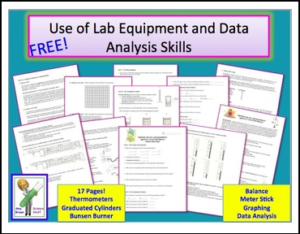 Lab Equipment and Data Analysis Skills
This lab covers the proper use of basic pieces of lab equipment and the data analysis skills of tabling and graphing. This lab is perfect all all science students at the beginning of each school year.
Topics covered by this lab:
• The Celsius Thermometer
• The Graduated Cylinder
• The Triple or Quadruple Beam Balance
• The Metric Ruler
• The Bunsen Burner
• Tabling, Graphing and Analyzing Data
• Making a Line Graph
• Making a Bar Graph
• Making a Circle Graph
This lab can be used with any type of science class that does lab work and with students in grades 6 through 12. I have found that my students come to me at the start of the school year with very different skill levels. I use this lab to insure that all students are quickly familiarized with my lab and learn (or review) how to use basic pieces of lab equipment. This lab teaches the use of 5 basic pieces of lab equipment: a graduated cylinder, a Bunsen burner, a meter stick, a thermometer, and a quadruple beam balance. Students will work with this equipment and answer basic questions.
Also included is basic data analysis skills. Students will construct a data table, a line graph, a bar graph, and a circle graph.
Your download will consist of 17 pages: a 7 page lab handout, a 4 page student worksheet, a 5 page answer key, and a 1 page teacher preparation sheet. The lab handouts include: Title, Introduction, Purpose, Materials, Procedure, Questions.
The pages are set up so that you can choose to have your students write their own lab reports, or you can use the enclosed student data worksheets.
Your download will include two versions of this lab: a pdf file and a Word document. Please feel free to make changes to the Word document to better meet the needs of your students.
Related Products Include:
Science Skills Mega-Bundle of 61 files.
Intro to Biology: A complete unit plan of 20 products
Pre-Lab Worksheet for any Science Lab
Introduction to Science: 34 Warm ups, bell ringers, or inserts for science interactive notebooks
The Ultimate Lab Safety Bundle for Science Teachers
Chemistry Chat: A First Day of School Chemistry Lab Icebreaker
FREE Science Lab Inventory Form
Metric System and Dimensional Analysis Powerpoint
Lab: Using a Graph to Find Area
Introduction to Biology: Scientific Method, Graphing, Themes of Biology, Microscope
Microscope Powerpoint with Notes for Teacher and Student
Scientific Method Homework / Study Guide
What's In a NAme? (A Study of Biological Prefixes and Suffixes)
Science Skills Worksheet and PowerPoint: Comparing and Contrasting
Graphic Organizer for Writing Science Lab Reports
Metric Measurement Task Cards – Set of 90
For updates about sales and new products, please follow my store:
My TpT Store
I would love to have you follow me at these locations as well:
Science Stuff Blog
My Facebook Page
On Pinterest
Amy Brown (Science Stuff)
https://www.teacherspayteachers.com/Product/Lab-Equipment-88664