by Texas Science Gal
5th – 8th Grade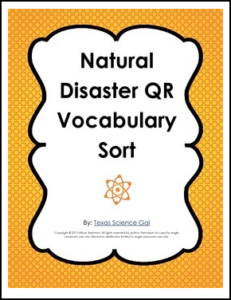 In this download there are 5 different natural disaster vocabulary words and QR codes. This download focuses on the natural disasters that have strong impacts on the ecosystems including tornadoes, hurricanes, tsunamis, earthquakes, and volcanoes.
To use this, simply print these out for a group of 2-4 and have students sort out all of the cards. Once students have sorted the codes, you can give them the guided questions to help with comprehension. This helps assess what they have learned and put it into writing. There is also an answer key provided. I find that it makes a great way to integrate technology, get students hands on, and to reinforce the content knowledge.
https://www.teacherspayteachers.com/Product/Natural-Disaster-QR-Vocabulary-Sort-1738274
Go to http://www.pinterest.com/TheBestofTPT/ for even more free products!