by Teaching Treks
3rd – 6th Grade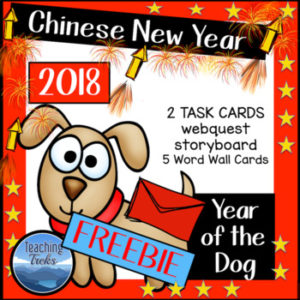 Chinese New Year freebie contains the following printable activities: a webquest, two fun thinking trek task cards, a Legend of Nian storyboard and Chinese New Year vocabulary on 5 Word Cards. The cards are suitable for Word Walls and associated learning activities.
2018 is the Year of the Dog!
Visit www.treksntrails.info to find a Chinese New Year pathfinder for kids.
The freebie is a sample of my Chinese New Year Teaching Trek, which contains Thinking Treks – 24 thinking task cards and a student Trek Tracker to keep track of activities completed, mapping/art printables, 50 word cards, printable posters and no prep student worksheets.
You can find it here: Chinese New Year
You may also like: St. Patrick's Day
Get your students thinking about Chinese New Year!
https://www.teacherspayteachers.com/Product/Chinese-New-Year-Freebie-1058613