by Kathleen Applebee
9th – 12th Grade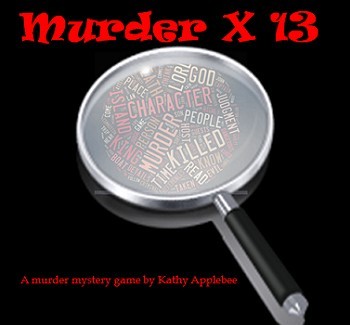 Various murderers in the Bible are brought together when one of them has killed again. Can the others figure out who the killer is and keep themselves from being his or her next victim?
Characters include: Abimeleck, Athaliah, Cain, David, Herodias, Herod the Great, Jezebel, Joash, Manasseh, Moses, Saul, Pharaoh, Zimri.
Role playing mystery games are an excellent way to introduce a Bible study or character analysis. The packet contains instructions for the host, rules, customizable invitation, character dossiers and suggestions for Bible study/discussion questions following the game.
More mysteries
To Kill a King freebie
Fairy Tale Mystery (Who kidnapped Cinderella?)
The Will murder mystery activity
Bee Movie mystery
Who Shot Prospector Pete?
Murder at the Manor
Who Killed Will Shakespeare? mystery activity
Chariots of Death freebie
Send in the Clones
The Toxic Ooze mystery
The Mystery of the Underground Railroad
The Roosevelt Assassination Attempt
Who Assassinated JFK?
Inventor of the 19th Century history mystery
Explorer of the Millennium Mystery
The Case of the Lifeless Lifeguard
Writing Mysteries Can Be Murder
Persian Palace Poisonings freebie
Assassination on the Ancient Nile freebie
Jake's Dead: Who Is in the Will? freebie
Free Christian drama resources at Fools for Christ
Free interactive Bible games

https://www.teacherspayteachers.com/Product/Game-Murder-Times-Thirteen-murder-mystery-207498
Join The Best of Teacher Entrepreneurs Marketing Cooperative at
https://thebestofteacherentrepreneursmarketingcooperative.net/the-best-of-teacher-entrepreneurs-marketing-cooperative-one-year-membership/
and get THOUSANDS OF PAGE VIEWS for your TpT products!

Victoria Leon's TpT Store
Go to http://www.pinterest.com/TheBestofTPT/ for even more free products!