by Different Drummer Secondary Resources
9th – 12th Grade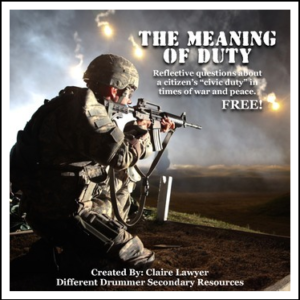 Should all citizens be required to fight for their country? What does it mean to belong to a country that actively recruits for soldiers or forces them in the draft? What does this mean for the students in your class?
These questions are deep and require reflection. This activity is for high school students to think about what it might mean to be a soldier or called up to fight in the draft.
This can be used for any war or as a pre-war unit activity to get students thinking about what these soldiers endured and sacrificed for their country. I hope you and your students find it interesting and useful to start some poignant, respectful discussions about this topic.
I'd love to know your thoughts, so please take a few seconds to leave feedback. If you like my style and would like updates regarding new products, please click on the "Follow Me" button!
Other products that you might be interested in:
The Things They Carried Literature Guide
Cold Mountain Literature Guide
The Civil War Informational Article